Preparing for baby: What's on your checklist?
7 steps to ease your anxiety: from pregnancy to delivery and bringing baby home.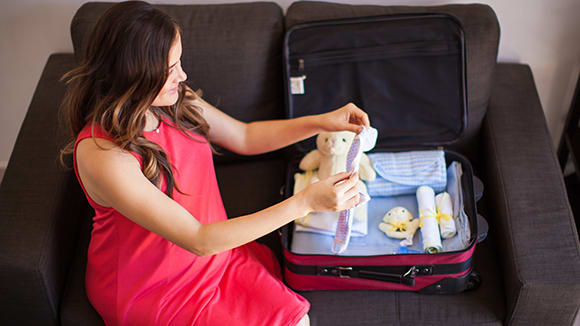 Expecting your first baby is very exciting, but it can also be overwhelming. So much to decide, so many choices and a pretty firm deadline to boot.
We've assembled a handy checklist to help you navigate the choices before, during and after your most blessed event. Most of all: Relax! Don't let all the preparation overshadow the joy and anticipation you feel.
Start with you. If you just found out you're pregnant, take care of your body first. Eat healthy, get proper exercise and cut out caffeine and alcohol.
Create a birth plan. Your birth plan will help you choose your obstetrician, which will determine where you'll deliver your baby. You'll also decide whether to try a natural birth or choose an epidural and pain medication. Pick who will be in the room with you before the big day to avoid an awkward situation. There are lots of choices for moms these days, so read up on what makes the most sense for you, your beliefs and your pain threshold. You also may want to read about cesarean deliveries, since sometimes that is an option.
Sign up for classes. There are many classes available to help you through your pregnancy. Baptist Health offers several at its four main hospital campuses, including an 8-hour Prepared Childbirth course, recommended during the second trimester, which covers what to expect during the birthing process, pain management, cesarean birth and postpartum care. Sign up early, though – these classes tend to fill up quickly. "I believe the most important reason to take a childbirth preparation class is that education and preparation are power," said Amy Bradfield, RNC, BSN, a certified childbirth educator at Baptist Medical Center South. "It helps reduce fears of the unknown, and empowers you to make good decisions. It's also a great way to meet new people who are going through the same thing you are."
Pick your team. The most important person on your team once your baby is born is the pediatrician or family physician, and the first checkup comes just one to days after discharge. Find one you like and trust, and line up your appointments ahead of time. Most offer a prenatal appointment so parents can get information about vaccinations, circumcision, umbilical cord blood banking, and provide after-hours contact numbers.
Navigate the hospital paperwork. Most hospitals offer maternity suite tours and pre-registration. Pre-registration allows you to get your name, insurance information and obstetrician's contact information in the hospital's system so it's already there when you arrive, reducing the amount of paperwork you'll need to fill out. Plan to bring your photo ID and insurance card with you.
Get packed. Pack your bag early, too. Put some thought into what necessities you'd like to have to help keep you comfortable, such as lip balm, snacks, eyeglasses, a comfy bathrobe, nursing bra and a going-home outfit for your baby. Many Labor and Delivery (L&D) Centers feature environments that are more like being at home, with the addition of some special amenities. Baptist Medical Center Beaches recently renovated its L&D with spa-like suites for moms to bond with their newborns. The center offers comfy sleeper sofas and recliners, large private bathrooms, and select spa treatments, like massages.
Secure the ride home. Taking your newborn home can be a little scary as you leave the protective environment of the hospital, but you'll feel better if you're comfortable with how the car seat works, and how to install it.
"Following passenger safety car seat guidelines is not only an important factor in keeping your baby safe while you're traveling in the car, but it's Florida law," said Cynthia Dennis, RN, coordinator of prevention for Safe Kids Northeast Florida, led by THE PLAYERS Center for Child Health at Wolfson Children's Hospital.
Go through several practice runs before your baby arrives, and get the car seat inspected to ensure that it's properly installed. Safe Kids Northeast Florida offers a Safe Kids Buckle Up® inspection station featuring free car and booster seat installation checks by certified child passenger safety technicians. Call 904.202.4302.