Push planning
Create a birth plan that works for you, your family and your care team.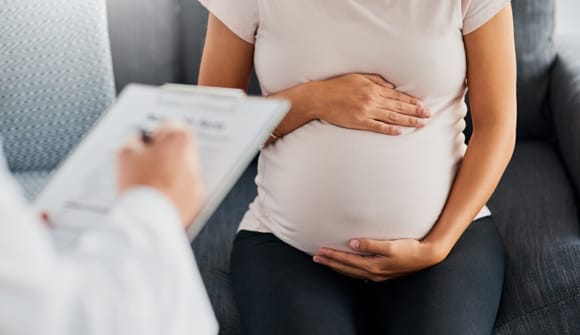 How should you prepare for the moment that will change your life forever?
The seemingly endless checklists that accompany pregnancy can be overwhelming, but creating a birth plan for when the time comes can help alleviate some of the stress of the labor and delivery process.
"A birth plan is really about what is most important to you once you go into labor and during your hospital stay," said Kathleen Hugo, RN, IBCLC, women's resource coordinator at Baptist Health. "You can begin creating a birth plan at any time during your pregnancy, but many times this happens after taking childbirth classes."
Preparing to push
Hugo said the first and most important thing a woman should do is to talk to her obstetrician, who will be able to help her prioritize and manage expectations about what is possible. Women who use a practice with multiple OBs should go over the birth plan with each physician. Decisions a woman should discuss with her OB include:
Birthing options, including natural delivery and pain management
Possible timing of the epidural
Constant or intermittent fetal monitoring during labor
Vaginal delivery or cesarean section (C-section)
The doctor's position on episiotomies
Women may also incorporate certain comfort items into their birth plans, such as:
Photos to focus on
Relaxing music
Scented lotions
Expecting mothers should also think about what follows the baby's birth, like skin-to-skin time for both parents, circumcisions (for baby boys), and baby rooming-in. Many times, a mother's wishes are already incorporated into the care provided at Baptist Health, Hugo said.
It takes two
It's also critical, Hugo said, for partners to be included when creating a birth plan.
"The two of you should be on the same page with what kind of birth experience you want, and the time to discuss that is not when you're in labor," she said. "For example, he or she may really want to cut the umbilical cord, or may not want to do that."
With visitation restrictions at many hospitals changing as the COVID-19 pandemic evolves, you will also need to decide who will be in the room for the delivery and recovery.
Go with the flow
While planning is key, it's equally important to understand that the process may not go as you envisioned.
"At all four of our Baptist Health birthing hospitals, our Labor and Delivery and Maternal Newborn teams are prepared and equipped to handle any scenario we may encounter during a delivery and hospital stay while trying our best to accommodate a mother's wishes," Hugo said. "Sometimes things happen that make your birth plan no longer possible. But we are constantly communicating with you to make sure you know everything that's happening. Rest assured that no matter the circumstance, including high-risk deliveries, we have the expertise to care for you and your newest addition."
---
A great way to begin forming your birth plan is to take a virtual childbirth class, taught by the experts at Baptist Health. To learn more about the Labor & Delivery services offered at Baptist Health, and what it's like to deliver here, visit baptistjax.com/baby.