RECIPE: Mango and pineapple smoothie bowl
Get your daily dose of vitamin C with this fruit-packed snack.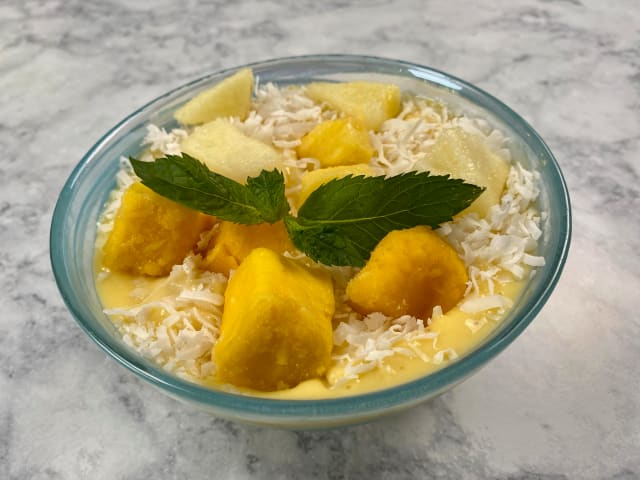 Ingredients
FOR THE SMOOTHIE BOWL
1 frozen banana
1 cup frozen mango
1 cup frozen pineapple
¼–⅓ cup coconut milk or milk of choice
TOPPING IDEAS
Kiwi Slices
Fresh Mango
Coconut Flakes
Granola
Chia, Hemp or Flax Seeds
Macadamia Nuts
Nut Butter
Directions
Combine all ingredients except for the toppings in a blender. Puree until completely smooth – the mixture should be very thick. Add a touch more liquid if necessary to get it to blend completely smooth, or if you want a thinner smoothie.
Transfer to an individual serving bowl and add toppings. Enjoy immediately.
Nutrition Facts
Calories: 327
Total Fat: 2.5g
Carbohydrates: 74.3g
Sugars: 54.2g
Protein: 3.5g
Cholesterol: 0mg
Sodium: 4.5mg
Vitamin A: 11% daily value
Vitamin C: 166% daily value