Meet your wellness coach!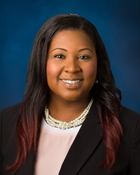 Cortney Surrency wellness coach for y healthy living center riverside photo Cortney Surrency is a Baptist Health Wellness Coach at the Riverside Y Healthy Living Center. Cortney received her degree in Healthcare Management from Florida A&M University and is a Certified Health Coach with the American Council on Exercise. Cortney has previously worked with the social responsibility and community health team at Baptist Health. She has a special interest in behavior modification and looks forward to working with you on your wellness goals!
Stop by today or call the center at 904.202.5338.