Choosing your health care sidekick
Tips and tricks for success when selecting a care partner.
Wesley Roberts Published: 11/8/2018
Navigating health care alone can be tricky, no matter your age. As adults get older, it's essential to have a loved one involved. For Lorraine Holtsinger, her daughter, Marge Holtsinger, was an easy choice for her care partner. For others, the decision can be difficult.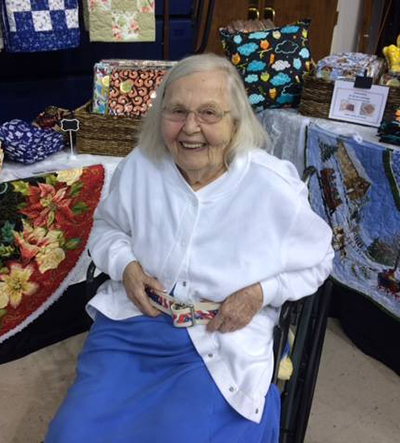 "The relationship is successful because we are open with each other and share our needs," said Marge Holtsinger. As time has passed, her role as care partner has become increasingly involved but the mother and daughter's shared love of sewing has remained consistent.
"It's important to us that we have something we can do together that is just for fun," said Lorraine Holtsinger, 91. As soon as she moved in with her daughter, they built a "happy room" as an addition to the house – a room where they go to quilt together for hours each day.
Picking a partner
A care partner – whether it's a spouse, a child, a cousin, a niece, a neighbor or a friend – can be defined in many ways. It's a person appointed by a patient who is included as a member of the care team and can help bridge the gap between medical obligations and home.
"Medical systems can be challenging to navigate, even if you are savvy with coordinating your affairs," said Lauren Madrid, a social worker at Baptist AgeWell Center for Senior Health.
Baptist AgeWell Center for Senior Health is a specialized outpatient center and primary care team focused on promoting health aging for adults age 65 and over with complex needs.
"At AgeWell, we provide resources for both the patient and the care partner," said geriatrician Courtney Ross, MD. "We encourage this relationship for every patient because it is beneficial to have shared responsibility as health care needs increase."
The perfect fit
When it's time to choose your care partner, it may feel like a big task. "What's most important is to choose someone you can trust and have full disclosure with," said Dr. Ross.
Here are five traits to consider when choosing a health care partner:
1. Is the person organized? From taking notes at appointments to keeping track of prescriptions and other needs, the duties of a care partner require strong organizational skills.
2. Does he or she have the time to commit? The care partner will be encouraged to attend all medical appointments with the patient. For some, responsibilities are minimal while others will require a lot of time.
"At AgeWell, we really try to value the time of the care partner. We have early morning appointments for those who work. We can call a care partner in to an appointment on speaker phone, answer questions they send in a note or follow up with them after the appointment," said Dr. Ross.
3. Is the individual a good listener? A care partner will listen to both the concerns of the patient and information from the doctors.
"I encourage the patient and care partner to talk beforehand and come to the appointment with questions to discuss," said Madrid.
4. Will this person be your partner and advocate? "In order to have a successful care partner relationship, it's important for the care partner to allow the patient to be as involved as possible in their own plan," said Madrid. "Patients should feel empowered to use their abilities to do what they can. Care partners should supplement the patient, not take over."
Keys to a successful patient-care partner collaboration
Establish needs upfront. The patient and care partner should time to outline their responsibilities. Being clear and up front from the beginning avoids frustration down the road. In addition, remember the needs of older adults can change over time. The patient should ask if the care partner is comfortable taking on more responsibility as time passes.
Have open communication. Having a candid conversation about expectations and responsibilities from the beginning is key. Open communication should continue as the relationship does.
"Choose someone you trust fully with your personal life. It's important to have someone present at appointments but know there are a lot of intimate details shared," said Dr. Ross. "You want to have someone by your side who respects your needs."
Care partner self-care. "I can't emphasize enough how important it is for care partners to take care of themselves," said Dr. Ross. "At AgeWell, we offer resources and advice for care partners in addition to the patients. It's a team approach."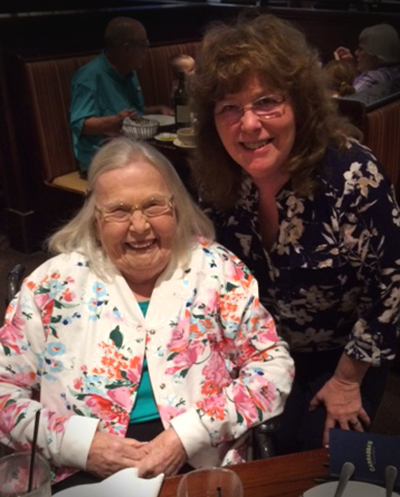 Care partners can always reach out for extra help and shouldn't feel like they are taking on everything by themselves. For example, Marge Holtsinger has someone come spend a few days a week with her mom so she has the opportunity to spend time with her own daughter and run errands – or to just go in the "happy room" alone to recharge.
Madrid and Dr. Ross both had seen patients who were hesitant to bring someone to their appointments. If it's overwhelming to have someone there every step of the way, they recommend starting with "baby steps," and having a care partner at a few appointments then increasing involvement.
"Picking a care partner is not about giving up your independence," said Dr. Ross. "It's about having a partner who will help advocate for you and your health."
Baptist AgeWell Center for Senior Health is a specialized outpatient center and primary care team focused on promoting health aging for older adults (ages 65+) with complex needs. To learn more about AgeWell, visit baptistjax.com/agewell or call 904.202.4243. At the "getting to know you visit" and beyond, patients are encouraged to bring a care partner.
Close X