What happens when the chief has a stroke?
Quick thinking by paramedics enabled fire official to receive comprehensive treatment.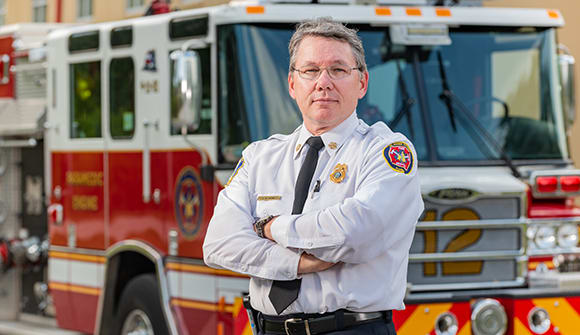 Sitting in his customary seat at the head of the conference table, St. Johns County Fire Chief Carl Shank was thinking about his next appointment later that afternoon.
Around the large table sat his six deputy fire chiefs, all seasoned paramedics with years of experience in emergency situations. As the table discussion was wrapping up at the Fire Administration Building in St. Augustine, Capt. Jeremy Robshaw asked Shank a question but didn't get a response.
Puzzled, Robshaw repeated the question.
"I thought maybe the chief was just messing with him," said Jeff Prevatt, Shank's right-hand man and the assistant fire chief at the time.
"I immediately turned and noticed the chief had his hand over his face. I've known Carl for a long time and I knew that was unusual. As soon as he moved his hand down, I recognized the facial droop and a light bulb went off in my head. I said to myself, 'Jeff, this is real. The chief is having a stroke.'"
Within seconds, Shank was surrounded by his leadership team. One radioed for an ambulance. Another knelt down beside the stricken fire chief to assess the severity of the stroke. Prevatt began making calculations in his head, knowing time is of the essence when it comes to treating stroke.
"We could tell Carl had had a serious stroke, and we knew we needed to send him to a comprehensive stroke center right away," said Prevatt, a 37-year firefighter. "So we made the decision to send the chief to Baptist Medical Center Jacksonville's Stroke Center. And the fastest way to get him there was by helicopter."
Early warning sign
This wasn't the first time Shank, who has a family history of stroke, had experienced a cardiovascular issue.
While competing in the 2017 Fight for Air Climb in downtown Jacksonville, Shank, 51, started experiencing symptoms of atrial fibrillation (AFib), an irregular heartbeat that can lead to blood clots, heart failure and stroke. The fit firefighter had completed the arduous, 42-floor ascent in years past, but had trouble catching his breath this time.
"It took me forever to get to the top," said Shank. "I really felt bad when it was all over."
The stairwell scare was Shank's wake-up call. He started working out more and watching what he ate. He even hired a personal trainer. He was being evaluated for AFib when he had a stroke at his office a week before Thanksgiving.
A comprehensive stroke center makes all the difference
Shank arrived at the Baptist Jacksonville ER with limited movement on his right side and severe speech impairment. A CAT scan confirmed that he had suffered an ischemic stroke caused by a blood clot clogging a main brain vessel. Within minutes, he received an intravenous medication called tissue plasminogen activator (tPA) to help dissolve the clot and reverse the negative effects of a stroke.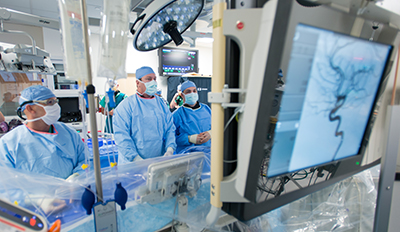 Less than 20 minutes later, Shank underwent an emergency surgical procedure to remove the clot. The procedure, known as a thrombectomy, was performed in the specially equipped neurosurgical OR suite by endovascular neurosurgeon Ricardo Hanel, MD, PhD, co-director of the Stroke & Cerebrovascular Center at Baptist Jacksonville.
Dr. Hanel used a special device called a stent retriever to remove the clot by making a small incision in the groin and then passing a micro-catheter into the blocked vessel. The minimally invasive procedure took only 25 minutes.
"Carl regained all of his strength on the right side after the clot was removed," said Shank's wife, Julie, a nurse practitioner and a former ER nurse at Baptist Jacksonville. "I could tell he recognized me and our two children when we got to his room in the Neurointensive Care Unit. He couldn't talk to us, so we just held hands."
Two days later, Shank was discharged from the hospital and started on medication to help prevent future clots associated with atrial fibrillation.
"It's amazing to look at the timeline now," said Shank, who arrived at the Baptist ER at 4:51 pm and was out of the operating room by 6:05 pm. "After the procedure, I immediately felt better, but I still couldn't talk. It took me a week before I could say my wife's name."
Shank was discharged with expressive aphasia a speech impairment that occurs in about 12 percent of stroke cases.
"He has a speech deficit, but it's nowhere near what it could have been had he not been transported to a Comprehensive Stroke Center like the one at Baptist that treats the most complex stroke cases," said Prevatt, who was appointed St. Johns County's interim fire chief in December. "He's made a remarkable recovery. But had he not gone to Baptist, the outcome may not have been the same."
Baptist Jacksonville is one of only seven hospitals in Florida to be certified as a Comprehensive Stroke Center by The Joint Commission and the American Heart Association/American Stroke Association. To be eligible, hospitals must have advanced imaging capabilities, 24/7 availability of specialized treatments, and provide physician assistants, nurses and other staff with unique education and training to care for complex stroke patients.
"Our goal is to provide the best stroke care in the country right here in Jacksonville, and we do that through excellent patient care, research and education" said Dr. Hanel, director of the Baptist Neurological Institute. "Chief Shank had a terrible stroke, but due to rapid assessment by Emergency Medical Services personnel, he was transported to the appropriate stroke center by the fastest means necessary. Any delay on his care would have changed this happy-ending story."
Even before the helicopter carrying her husband of 26 years touched down at Baptist Jacksonville's landing pad, Julie Shank said she received a call from Dr. Hanel. "He wanted to reassure me that his team would take very good care of Carl," she said. "The support I received at Baptist was phenomenal. There was someone with me the whole time Carl was in surgery.
"And we couldn't be more thankful to St. Johns County Fire and Rescue for getting Carl to the hospital in such a timely manner," she added. "He's here today because of them."
Time is brain when it comes to stroke. BE FAST and call 911 if you or a loved one experience any signs or symptoms of the condition. For more information, visit baptist.com/stroke.