Bouncing back from the brink of death
True save: "He came in comatose and now he's normal"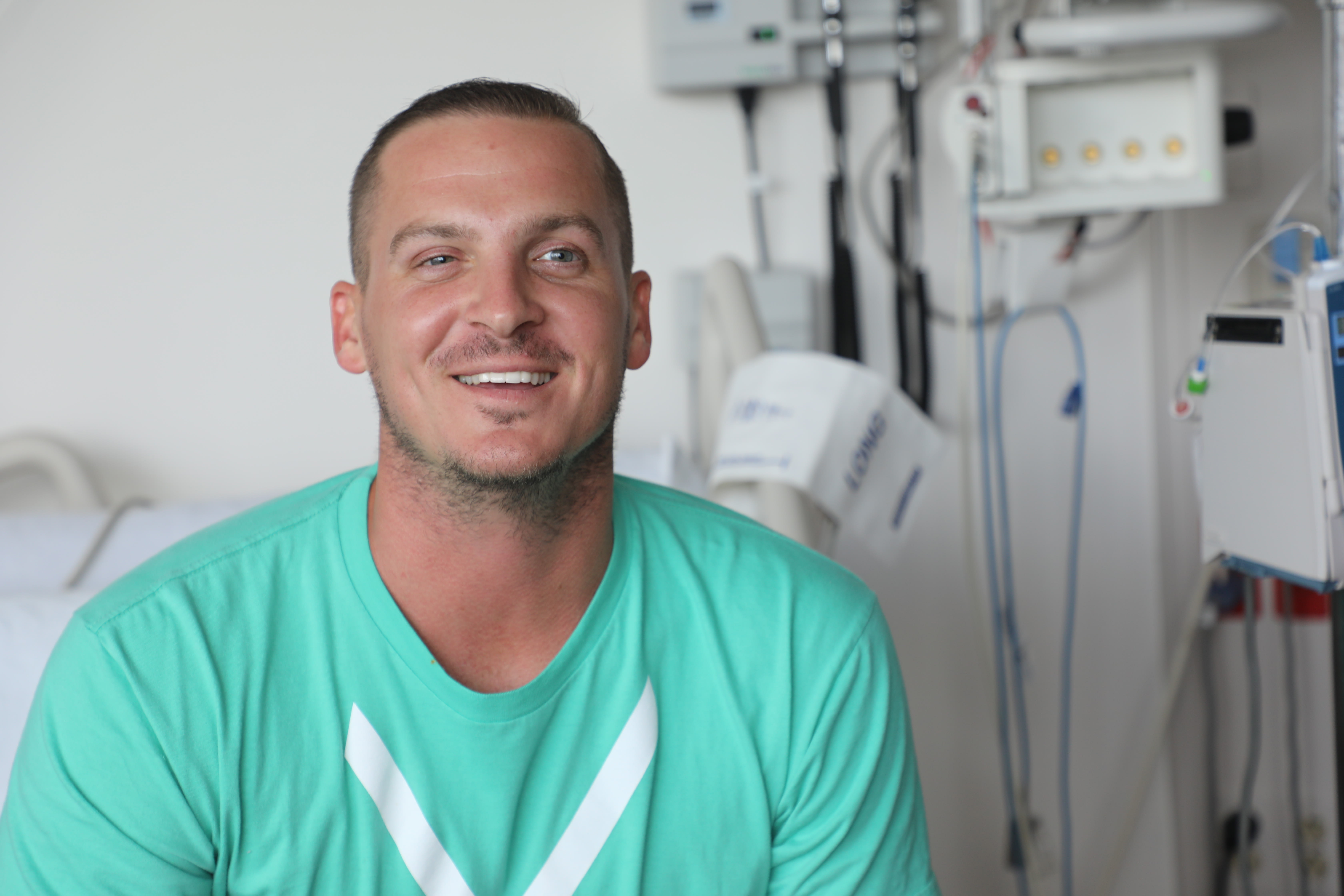 Marvin Gaye croons from a portable radio as Travis Martin dances in his hospital room.
With a wide grin, he playfully hip bumps his nurse, egging her to join. Instead, she shakes her head, laughs and calls Martin the unit's troublemaker.
"Your blood pressure is going to be elevated if you don't stop," the nurse added.
By the end of the day, or even by the end of the hour, she won't be the only one to affectionately give him the nickname. Everyone on the 7th floor of Baptist Medical Center Jacksonville seems to know when Martin is staying in the hospital – either because of his music or his aromatherapy diffuser or his loud, upbeat personality.
But, also, the 33-year-old wastes no time in introducing himself. "Hi, I'm Travis. I have stage 4 brain cancer," he tells visitors.
Central nervous system (CNS) lymphoma, to be exact, which is rarely found in a patient so young.
"It looked unusual on the MRI," said neuro oncologist Robert Cavaliere, MD. "He was the wrong demographic. Everything worked against him in terms of getting the right diagnosis."
Martin is now responding well to chemotherapy and Dr. Cavaliere says cases like this keep him coming back to work.
"He has a great attitude, good support and a good family – the right combination of things to do well," Dr. Cavaliere said. "He had an unusual disease at an unusual time in his life, but we did the biopsy, we turned him around and we saved his life."
Evasive Diagnosis
For more than a year, Martin wondered what was wrong with him. His vision suffered, he felt tired all the time, and he lost his carefree outlook on life. He knew an explanation existed, but area physicians were stymied. They speculated he had multiple sclerosis or parasites, or maybe even AIDS.
Nothing stuck, and nothing helped.
Slowly, his condition worsened.
Martin became confused about simple topics. While driving in the car with his fiancé, he'd ask her where she lived – and she'd calmly reply, "With you, of course." Or, as Martin took his step son to school, he'd ask, "Where's the salt and pepper shaker?"
Recognizing his family's confusion at the strange comments, Martin still remembers how he felt in those moments. "Oh, you're an idiot. Why do you keep asking these stupid questions?" he'd ask himself.
Despite his declining health, Martin married on May 20 and drove to Orlando with his wife to celebrate what should have been one of their happiest moments.
Orlando, however, was a turning point in his disease's progression.
At the hotel, Martin attempted to climb into the pool, but could hardly stand. He stumbled from person to person, using young swimmers as support.
People complained he was too drunk, but his wife told them, "He's not drunk. He's sick."
The two left Orlando and on May 25, Martin was admitted into the Baptist Medical Center Jacksonville Emergency Center. That's when things suddenly started to make sense.
Doctors performed an emergency craniotomy to diagnose Martin, and the biopsy confirmed he had central nervous system lymphoma.
"Now, we could put a name to it, and the name was cancer," Martin said. "I don't think anyone takes that term lightly."
By the time his diagnosis came back, Martin was dying. His white blood cell count was astronomical, and his fever spiked to 106 degrees. At one point, confused and fevered, Martin ripped out his IVs, his catheter, and even the staples on his head.
Dr. Cavaliere recommended a high dose of chemotherapy.
"We were so desperate," he said. "It's a high dose, but we were so desperate that first day because he was progressively getting worse and worse."
For six days, Martin remained in a coma. His family and friends – all knowing his diagnosis even before Martin did – waited to see the chemo's results. As it turned out, Martin's body handled the chemo very well – and has continued to do so in the seven rounds he's had since.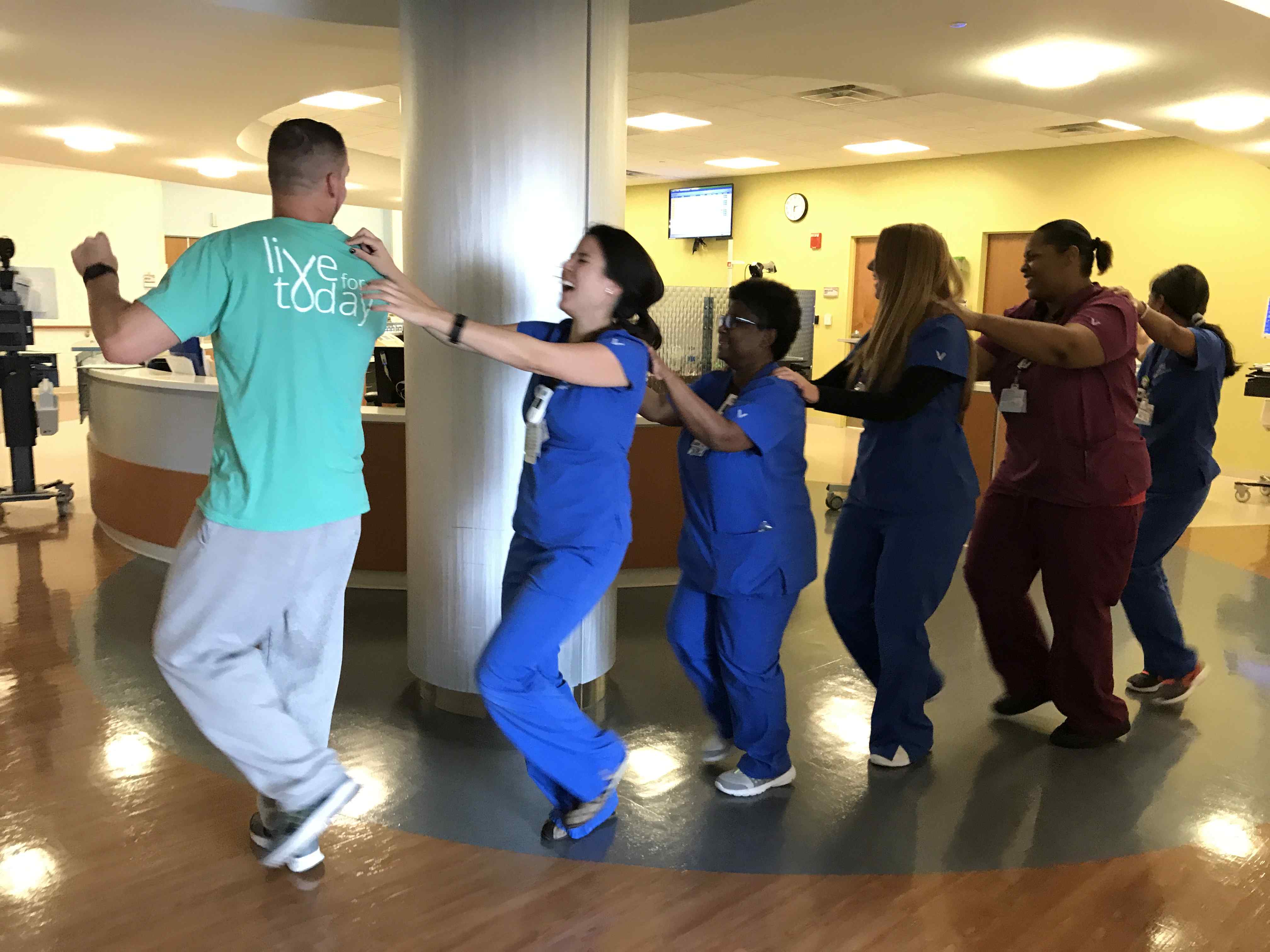 "He's a true save," Dr. Cavaliere said. "The guy came in comatose, and now he's normal. It's a delightful outcome."
Katie Pearsall, one of Martin's best friends, founded the Live for Today Foundation, which helps young adults with cancer. The organization assisted Martin and his family. When he woke up from his coma, Pearsall was there. The foundation ultimately helped Martin return a normalcy to his life by sharing experiences about his cancer with other survivors.
"I never thought at 32 I'd be diagnosed with stage IV brain cancer, which is pretty bad from what I hear," Martin said. "But I'm here today so I'm pretty happy about it. I'm just going to keep on living and laughing and making other people laugh too."