A yearning to heal
Boyhood events inspired a cardiologist to pursue medicine as a career.
Johnny Woodhouse Published: 10/17/2019
Every physician has an anecdote about why he or she went into medicine, and Alejandro Pena, Jr., MD, a noninvasive cardiologist with Baptist Heart Specialists, is no exception.
The Southern California native first thought about becoming a doctor in the fourth grade, after showing concern for a boy in his class with an unrepaired cleft palate.
"Kids were always making fun of him, so I said I will become a surgeon when I grow up," Dr. Pena recalled.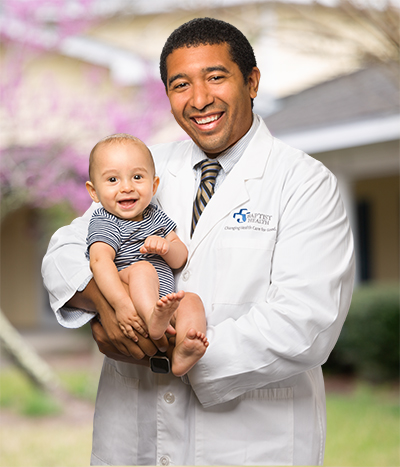 Then there was the time he was getting a high school physical and was informed that he had an irregular heartbeat.
"The physician recommended that I have a stress test and an echocardiogram, both of which came back negative," Dr. Pena added. "Turns out, it was a sinus arrhythmia where the heartbeat changes pace when you inhale and exhale. Being able to diagnose something like that really interested me and solidified my yearning to become a doctor."
Former personal trainer
Before attending medical school, Dr. Pena earned a bachelor's degree in neuroscience at Johns Hopkins University and a master's in public health from the University of Georgia.
He also took a gap year to work as a personal trainer in the Atlanta area.
"I got interested in personal training because I was pretty overweight in college," said Dr. Pena, who lost about 70 pounds after graduate school.
"When I got to medical school, I trained a few clients on the side to make extra money and to stay in shape. To be a successful personal trainer, you have to be fit or no one will listen to you."
Dr. Pena had a bout of exercise-induced asthma as a child but went on to play varsity tennis in high school and participate in the marching band.
Son of immigrants
After a residency in internal medicine and a fellowship in cardiology, both at Banner University Medical Center in Phoenix, Ariz., Dr. Pena joined Baptist Heart Specialists in August 2019, specializing in diagnostic cardiac testing and exercise training.
"I'm very interested in preventative cardiology, screenings and managing patients before their coronary disease or hypertension becomes more advanced," he said. "Patients who understand their pathology are more likely to take their medications, check their blood pressure and accept most medical interventions."
The son of immigrants, Dr. Pena is the first person in his family to graduate from college. His mother, a travel agent in Suwanee, Ga., and a bilingual parent specialist with the Georgia Department of Education was born in Baja, Calif. His father, Alejandro Sr., a Major League Baseball pitcher from 1981 to 1996, and the recipient of two World Series rings was born in the Dominican Republic.
"My dad was only 18 when he signed a free-agent contract with the Los Angeles Dodgers in 1981," said Dr. Pena, who was born in 1984, the year his father won a dozen games as a starting pitcher for the Dodgers and led the league in earned-run average.
"Neither of my parents knew the language when they came to this country to provide a better life for me and my sister. I'm a doctor today because of them."
Non-invasive cardiologists assist patients in managing and preventing cardiovascular disease. For an appointment, call Baptist Heart Specialists at 904.720.0799.
Close X