Your heart after menopause
How 'the change' increases risk of cardiovascular disease.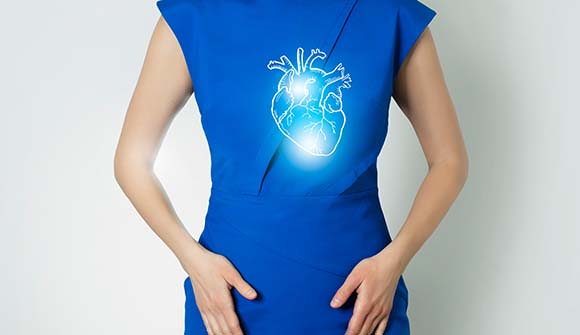 Menopause is a stage of life that can bring an array of challenging symptoms and changes. The first that come to mind may be hot flashes, irritability and loss of periods, but research shows an increased risk of coronary heart disease is also on the list.
According to the American Heart Association, women who experience early-onset menopause (before the age of 40) are 40% more likely to develop a buildup of cholesterol plaque in the heart's arteries than women who did not go through early menopause. This could lead to a heart attack.
While the risk is heightened for those who go through menopause at a younger age, postmenopausal women overall are at a higher risk of developing cardiac disease, according to Shreya Ghetiya, MD, a cardiologist with Baptist Heart Specialists.
Dr. Ghetiya explained why this concern comes after "the change" and how women can stay heart-healthy.
Protection with estrogen
During menopause, the body significantly reduces its production of the hormones estrogen and progesterone. The former plays a role in a range of bodily systems and functions, including the reproductive system, metabolic system and even the heart and blood vessels.
"Estrogen has a protective benefit for cardiac health, and it provides a layer of chronic prevention when produced," said Dr. Ghetiya.
It also helps regulate metabolism, sensitivity to insulin and cholesterol levels. Lack of estrogen can lead to higher "bad" LDL cholesterol and lower "good" HDL cholesterol.
"This is the same reason why men tend to have higher cholesterol levels and why postmenopausal women are at a greater risk of serious cardiac events. If you have early menopause, then you have early estrogen deficiency."
Can you control the cycle?
Is it possible to prevent early onset menopause? Probably not. According to Dr. Ghetiya, 70-80% of the time, it occurs without a cause.
"There are certain risk factors – inflammatory diseases and genetic disorders, viral infections that affect the ovaries, chemotherapy or other medications – that could suppress ovarian function," she said. "Sometimes, it's hereditary, but most often, it's idiopathic and there's no reason why one goes into menopause earlier than another."
It's important to note, however, that while a woman's risk for heart disease increases after menopause, it doesn't happen overnight.
"The longer you're in menopause, your risk slowly grows," Dr. Ghetiya said. "You'll see subtle changes in your cholesterol panels over time, and it takes years to see any major clinical impact."
Prevention before intervention
Whether pre- or post-menopause, early or "on time," Dr. Ghetiya recommended using this knowledge to prioritize cardiovascular health now and in the future.
Here are some of her suggestions for how to optimize heart health and prevent developing coronary heart disease:
"Focus on preventive health care and stay on top of your lipid panels and diabetes screenings," Dr. Ghetiya said.
See the signs
Much like the signs of a heart attack, symptoms of coronary heart disease in women present in a range of ways. Fatigue from exercise or exertion, pressure in the chest or left arm and shoulder, or change in energy levels may be signs of cardiac disease.
"Women tend to have more atypical presentations, so my recommendation is to be aware of any unusual symptoms and share these concerns with your primary care physician," Dr. Ghetiya said. "They'll direct you to the right consultation if needed."
---
Need help finding a primary care physician or OB/GYN? Call 904.202.4YOU to get matched with the right doctor(s) for you.
Source: American Heart Association