When wellness gets personal
4 reasons you need a primary care physician.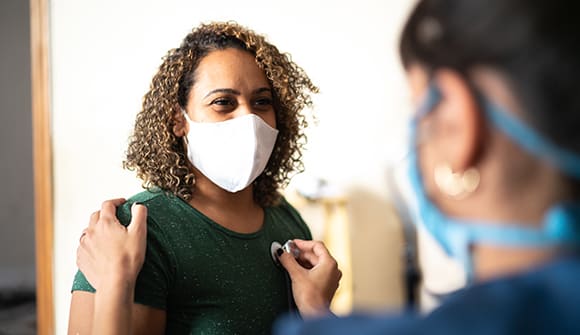 When you feel sick, having the ability to get an immediate appointment with your primary care physician (PCP), go right into an exam room, and bypass a clipboard of forms because you're already in the system is priceless. A doctor who understands your full health story can get you feeling better fast, while offering other benefits for years to come.
Jacob Wolf, MD, a family physician with Baptist Primary Care, explained the top four reasons why establishing a relationship with a PCP makes a difference.
1. You have a go-to contact for health concerns. "It's important to have a primary care physician because he or she is the gatekeeper for your health. Your PCP can provide personalized care and proactive health screenings for cancer, heart disease, high blood pressure and diabetes. Seeing this physician regularly can help identify and detect health issues before they become serious, which leads to earlier treatment and better outcomes," Dr. Wolf said. Your doctor can also make a referral to a specialist if the need arises.
2. You have history. "When you're sick, it's best to go to your PCP who knows your medical history, the medications you're taking and what's worked for you in the past. He or she can also help with follow-up if you're not improving or the illness isn't going away," Dr. Wolf said. "When a PCP knows your full family health history, he or she can be more attentive to signs and symptoms of chronic diseases you may face, and what treatments and screenings may be appropriate."
3. You've built trust. This bond gives you a level of comfort you don't have with a provider you've just met. When it comes to your health, trust is important so you can talk about anything from strange to embarrassing symptoms. "In any relationship, trust is very important. By building a connection with your PCP, you'll feel more open to asking questions and discussing your concerns about your physical and mental wellbeing," Dr. Wolf said. It helps to bring a list of questions you'd like to address to your appointments.
4. You'll probably pay less. Without a doctor who can see and treat you quickly, you could end up in the emergency room for an accident or illness. You don't want to pay for a potentially costly trip to the hospital because you had no other options. Fortunately, 1 in 5 visits to the ER can be avoided by seeing your PCP.
I feel fine, why should I go every year?
Annual check-ins are your best bet for prevention. Your PCP can inform you about new health guidelines and recommendations that may have changed. Your well-visit is a time that allows your provider to review your numbers and compare how your health stats changed in a year.
"Yearly well-visits are extremely important to discuss your concerns and schedule screening appointments," Dr. Wolf said. "The visits also provide time to talk about eating habits and physical activity. Your PCP can offer suggestions for lifestyle improvements to help prevent chronic disease."
---
If you're looking for personalized attention for your overall health, the experts with Baptist Primary Care are ready to help. To find the right one for you, call 904.202.4YOU.