Strong comeback for Taekwondo champ
At just 37, Xavier got back in the rink after a heart attack.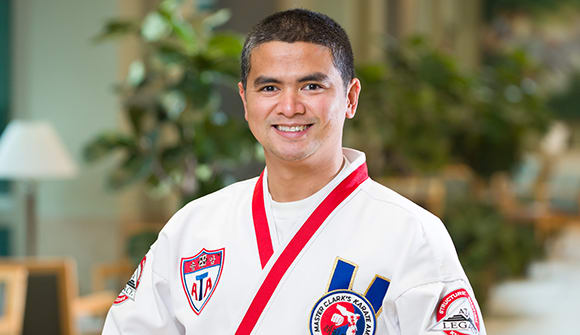 Xavier Javier had been competing in Taekwondo, an intense martial arts sport, for three years when he realized he didn't feel like his usual self.
"I started having trouble with my breathing and felt heaviness in my chest," Javier said. "I was getting tired doing basic chores, like mowing the lawn. My doctor thought I had asthma." He was given inhalers and herbal medications, but nothing changed.
Javier was determined to keep competing in Taekwondo. Not only was it a sport he enjoyed doing with his 13-year-old son, his dedication and training had earned him a 1st Degree Black Belt, the No. 6 ranking in the world for weapons and a No. 1 ranking in Florida for forms and weapons.
Then the unthinkable happened. He had just finished competing in combat sparring in a Georgia tournament when he began to feel extremely tired after exiting the ring.
"That was the day I died," Javier said. His heart had stopped beating. Fortunately, there were paramedics on site who were able to shock his heart back to life using a defibrillator. He was then rushed to a Georgia hospital where he spent 11 days and received two stents. He had suffered severe blockages in the heart's major arteries.
Once Javier returned home to Ponte Vedra, Fla., his journey back to health would be challenging. He contracted pneumonia the same day he was discharged from the hospital and spent several days at Baptist Medical Center South. Once he was finally cleared to begin his rehabilitation, he enrolled in Baptist South's new Cardiac Rehabilitation Program.
The center helps patients who have suffered heart attacks and other cardiac events get back to their normal lives through physical activity, lifestyle modification, education, nutritional guidance and supervised exercise. During workouts, patients are hooked up to monitors to make sure their blood pressure, heart rhythm and heart rate are in a good range.
"When I first started the program, I could only run on the treadmill for about a minute, but every time I went, the staff worked with me to increase the duration and intensity," said Javier. By the time he finished the 36-session program, he was able to run comfortably at a much higher intensity for longer periods of time.
"The program provides patients with the reassurance they need to challenge themselves. Most people are extremely anxious to begin exercising after a heart attack," said Julie Fonger, coordinator of Cardiac Rehab and an exercise physiologist.
"It was a terrifying experience being in such good shape and then going to zero," said Javier. "But I felt comfortable pushing myself because I knew they had my back. If anything were to happen, the staff would know exactly what to do."
Everyone who works at Baptist Health Cardiac Rehabilitation Centers has Advanced Cardiac Life Support (ACLS) training.
Being just 37, in excellent physical shape and eating a clean diet, Javier didn't have any of the classic signs of heart disease. However, he does have a family history. "All of my uncles died of heart attacks," he said. "I had a cousin who died at age 27. So it's really in my blood."
Javier now takes heart medication and tries to be even better about his diet, eating less sodium and fewer sweets.
Taekwondo season starts this summer and he hopes to compete again. "I'm not quite back to the same level," said Javier, who now is able to train three times a week. "I have really come a long way. The Cardiac Rehab program gave me the confidence to push myself."
For more information about Baptist South's Cardiac Rehabilitation Center, call 904.271-6325.