'We got this'
Woman finds relief from back pain thanks to robotic spine surgery.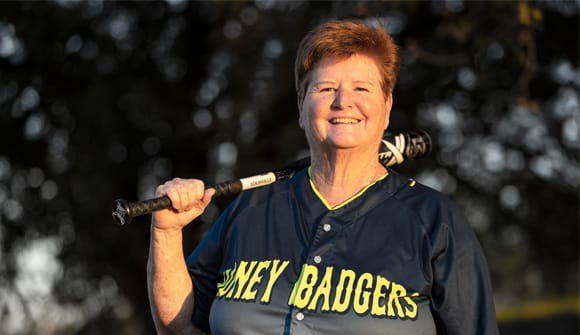 Kathleen Conran's back issues began after a car accident years ago. She was in pain and had tingling and numbness in her legs, so she began a two-year regimen of injections for pain management. When those stopped helping, she was referred to Lyerly Neurosurgery at Baptist Health.
She was surprised when neurosurgeon Andrew Cannestra, MD, PhD, took her case.
"I didn't realize neurosurgeons also helped with back pain, but I was glad to meet him," Conran remembered.
Customized care
Surgery to clean up bulging disks and scar tissue eased the pain and Conran was on the road to recovery, when a fall from a hammock and a subsequent MRI showed the lowest vertebrae of the spine nearest the tailbone were crumbling. She needed disk replacement surgery. She negotiated to delay the procedure for two days so she could watch her favorite team, the University of North Carolina Tar Heels, play the Duke Blue Devils in basketball. Dr. Cannestra agreed, but only if Conran vowed to go home, do nothing and be careful until surgery.
"That didn't happen," Conran recalled. "I stopped at a memorial service and there was a drive-by shooting. I had to dive underneath a car. His nurse saw me on the news and told him. He called and said, 'You didn't go home.'"
Though all ended well, the consequences could have been tragic: If the disks in her vertebrae had given way and severed the spine, she could have ended up paralyzed.
With no more excuses allowed, Conran had her surgery. In robotic spine surgery, physicians or surgeons use advanced 3D-planning software to create a customized plan for each patient. In the operating room, the surgeon is guided by robotic technology using the unique surgical blueprint to place implants safely and accurately using minimally invasive techniques. Robotic-assisted surgery results in smaller incisions, and less recovery time.
Confidence and relief
Baptist Health's ability to perform surgery with the aid of robotics and an expert team behind the tools was the mental and physical relief Conran needed.
"You have a lot of 'what if' questions in your head. You're scared – this is your back. The surgical team came in and said, 'We got this.' The confidence and experience Dr. Cannestra and the team have in what they do puts you at ease."
"Our surgeons are great, but the robotic tools make us better," said Dr. Cannestra.
Conran also praised the team for its focus on post-surgery recovery following Enhanced Recovery After Surgery (ERAS) protocols, first with physical rehabilitation, and next with pain management without medication, which was important to her. "The doctors are aware of the national opioid problem and they aren't pushing pills. They believe in fixing the problem so you don't need them. That's A+ in my book!"
Back to life
Conran is back to some of the activities she loves, including riding bicycles, taking long walks and coaching softball. "It changed my life. I'm a normal person and can live with no back issues!"
She's also an advocate for robotic spine surgery.
"Don't be afraid. The new technology makes it easier. If you can't tie your own shoes without pain, call Baptist Health and they'll get you fixed," she said.
Kathleen Conran: In her own words
Baptist Health offers patients the most comprehensive and advanced back pain care using the latest tools for increased precision in minimally invasive spine surgery. To determine if robotic spine surgery is right for you, call 904.202.BACK or go to baptistjax.com/back.