Cancer screening slump
Critical health checks still behind pre-pandemic levels.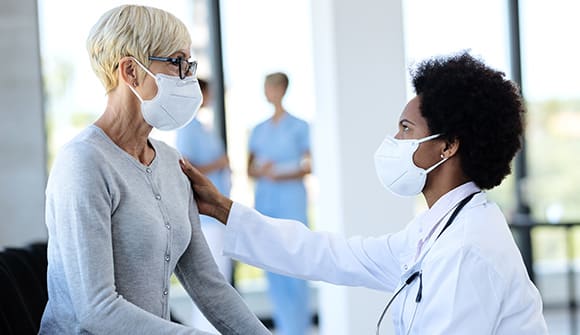 More than two years after the start of the COVID-19 pandemic, cancer screening volumes are still down compared to pre-pandemic rates. During the early days of the coronavirus, some treatment centers temporarily paused services in an attempt to slow the spread of the virus and make room for ill patients. Now, reports show many people still haven't scheduled critical screenings.
On the rebound
According to a study published in June 2022 by the American College of Radiology and the Harvey L. Neiman Health Policy Institute®, mammograms were down about 64% during the peak pandemic period (March-May 2020), rebounding to 85% of pre-COVID-19 levels in the same time frame one year later.
According to National Cancer Institute data, since mammography screening became widespread in the mid-1980s, the U.S. breast cancer death rate has dropped 38%. If people are missing mammograms, they're also missing the opportunity to treat breast cancer at its earliest stages, when it's most curable.
"Roughly one in eight women is diagnosed with breast cancer within her lifetime, but it's 95% curable in its early stages," Baptist MD Anderson Cancer Center oncology nurse navigator Peggy Neville, RN, said. "Mammograms help us identify cancer before it's too late."
'Screening saves lives'
When it comes to lung cancer, early detection is crucial. Though it has up to a 92% cure rate in its earliest stages, that number drops to just 6% once the cancer progresses to stage 4, according to Carolyn Austin, RN, Baptist MD Anderson lung cancer screening program coordinator.
"During the pandemic, cancer diagnoses dropped not because there was less disease, but because patients weren't receiving their scheduled screenings that would normally find it," said Austin.
Early detection can save a person's life, but only a small percentage of patients are diagnosed at an early stage. To catch potential health hazards and prevent chronic illness down the road, it's important people stay on top of their routine screenings and tests.
"Prevention is always best, but screening saves lives," said Bill Putnam, MD, medical director of Baptist MD Anderson. "We want patients to know that we focus an incredible amount of effort to keep our patients safe by preventing the spread of COVID-19 and even more importantly, making sure our patients have access to these critical and lifesaving screening procedures."
The best advice? Get screened for lung cancer if you meet the following criteria:
Between 50 and 77 years old
Smoked one pack of cigarettes a day for 20 years (or two packs a day for 10 years)
Current smoker or have quit within the last 15 years
"Since there are no pain fibers in the lungs, patients may not know they have cancer. Once it begins to grow and press on small blood vessels or air passages, a patient may cough up blood or experience pain. This can mean the cancer has advanced beyond the early stage," Dr. Putnam said. "Screenings are lifesaving for so many patients. Discovering lung cancer as early as possible helps them have the best choice of treatment and the best chance of cure."
Reduce the risk
In addition to getting screened, individuals can take steps to reduce their risk of cancer. Though they can't control age and family history, lifestyle changes can reduce the risk and improve overall health. These include maintaining a healthy weight, being active, limiting alcohol, stopping smoking, choosing to breastfeed and knowing about their family history.
"At the beginning of the pandemic, we saw some patients choose to not get mammograms out of fear of the virus, but this is not ideal," said Baptist MD Anderson oncology nurse navigator Laveda Carter, RN. "Some cancers can progress in a short amount of time. If a patient chooses to delay care, his or her cancer could become much more advanced, which affects his or her prognosis."
---
If you're interested in learning more about cancer screenings or setting up a screening appointment with your primary care physician, please visit Baptist MD Anderson Cancer Center or request an appointment with Baptist Primary Care.
Sources: JCO Clinical Cancer Informatics, Harvey L. Neiman Health Policy Institute, National Library of Medicine, Scientific American