Mammogram myth-busters
Are any of these beliefs keeping you from regular 3D breast screenings?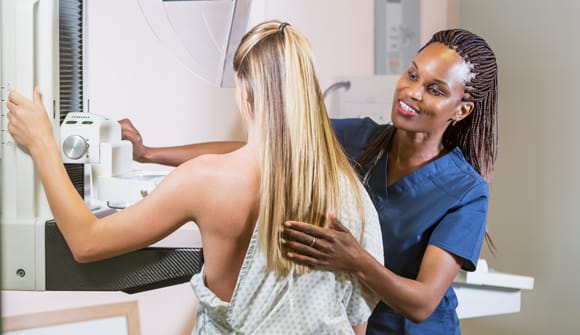 Raise your hand if you enjoy getting a mammogram. No?
Annual mammograms lower a woman's chance of death from breast cancer by 30-40%, according to the American College of Radiology. Beginning at the age of 40, women should get a mammogram every year, said Trishna Patel, MD, a radiologist at Baptist Health. It could be earlier if they have a family history of breast cancer.
7 myths about mammograms
Here are seven myths that could be standing between you and this all-important annual screening.
1. I don't need a 3D mammogram. 
3D mammograms are more accurate than traditional 2D mammograms, allowing physicians to examine breast tissue layer by layer. "Studies show that 3D mammography exams reduce the need for additional imaging by up to 30%," said Dr. Patel. "Increased accuracy helps expedite care." In addition, 3D mammograms are better at finding breast cancers than 2D mammograms.
2. I need a referral from my primary care physician. 
You don't need a referral from your primary care physician to get your annual screening mammogram. You can set up an appointment on your own.
3. I don't have a family history of breast cancer, so I don't need a mammogram every year. 
Thirty percent of breast cancers are found in women with a family history, meaning 70% of breast cancers are found in women without a known family history. Even if you don't have a family history of breast cancer, your risk could still be high.
4. Radiation from mammograms can cause cancer. 
The radiation you get from a mammogram is a very low dose, about the same as you would get from the sun over a three-month period.
5. Mammograms hurt. 
Mammograms can cause some discomfort, but there are ways to minimize it, said Dr. Patel. For example, you can schedule a mammogram for the middle of your menstrual cycle when your breasts are not as sensitive. Stay calm and trust the mammography technologist is there to help you get the best pictures with minimal discomfort.
6. If my lump doesn't hurt, it's not breast cancer. 
Until a doctor does a complete evaluation, which may include a biopsy, there's no way to know whether a lump is harmless. Not all breast cancers hurt. "A patient should never assume it's benign," said Dr. Patel.
7. I can tell I have dense breasts by how they feel. 
Dense breast tissue can hide cancer from X-rays. High breast density also slightly raises your risk for breast cancer. Breasts are dense if they have more fibro-glandular and connective tissue, which doesn't correlate to how they feel. A radiology/X-ray finding is needed, which is even more reason to make sure you have your yearly mammogram.
---