Do you have dense breasts?
How it can hinder cancer detection.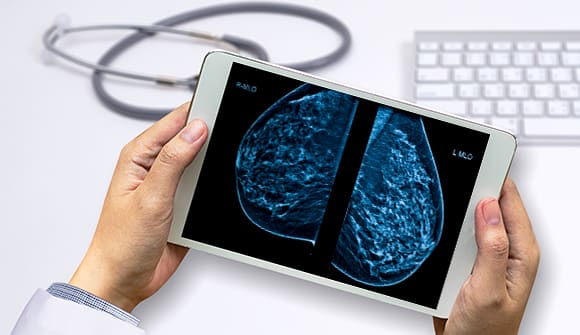 Half of all women in the U.S. have dense breasts. Although common, many women aren't sure what that means.
Breasts are comprised of two types of tissue: dense tissue (fibrous and glandular) and non-dense, fatty tissue. 
Why is it important to know if I have dense breasts?
Having dense breast tissue makes it harder to detect breast cancer because it's difficult to see through on a mammogram. When a woman's breast has more dense tissue than fatty tissue, the accuracy of the mammogram is lower.
"On your mammogram, dense breast tissue appears white and hard to see through," said Laila Samiian, MD, a surgeon and director of the Breast Program at Baptist MD Anderson Cancer Center. "Therefore, tumors or calcifications that are cancerous can be hidden within the dense tissue and are more difficult to detect."
Baptist MD Anderson Cancer Physicians

Breast Surgical Oncologist, General Surgeon
According to the National Cancer Institute, women with dense breast tissue have a higher risk of breast cancer than women with fatty breasts, and the risk increases with greater breast density.
The first step to finding out if you have dense breasts is to have an annual mammogram, recommended for women 40 and older. "The only way to know if you have dense breasts is to get a screening mammogram, as you cannot determine breast density on physical exam," Dr. Samiian said.
What should I do if I have dense breasts?
If you have dense breasts, understanding your breast cancer risk can help you and your physician make the best treatment decisions.
"Breast density is mostly hereditary and genetic," said Dr. Samiian. "Younger women tend to have dense breasts before menopause, especially during lactation and breastfeeding. After menopause, the dense glandular tissue is supposed to involute, or shrink, being replaced with fatty tissue. This is why mammography in younger women is more difficult – their breasts are denser and more difficult to see through. Older women tend to have fatty-replaced breasts which makes mammographic screening very effective and accurate. However, some women's breasts do not involute after menopause and remain dense, especially in women who stay on hormone replacement therapy. They tend to have a high risk for developing breast cancer."
How do I know if I'm at risk for breast cancer?
Whether you have dense breasts or not, there are several other factors that can affect a woman's breast cancer risk, such as lifestyle, family history and menstrual history, among others.
"Talk to your doctor about your breast cancer risks," said Dr. Samiian. Women with dense breasts and other risk factors may want to consider consulting the High-Risk Breast Screening & Prevention Clinic at Baptist MD Anderson Cancer Center to determine their lifetime risk percentage. For those with a family history of breast cancer, genetic counseling is also available.
For women with dense breast tissue, other screening methods for detecting breast cancer may be recommended. Baptist Health offers a range of screening options, including digital 2D and 3D mammography, breast MRIs and whole breast ultrasound.
---
Get screened and know your breast type
The Margaret and Robert Hill Breast Center is the largest dedicated breast center in our region and excels in patient satisfaction measures. For more information, call 904.202.2222.