Immunotherapy providing hope
Clinical trials and new FDA decision aid breast cancer patients.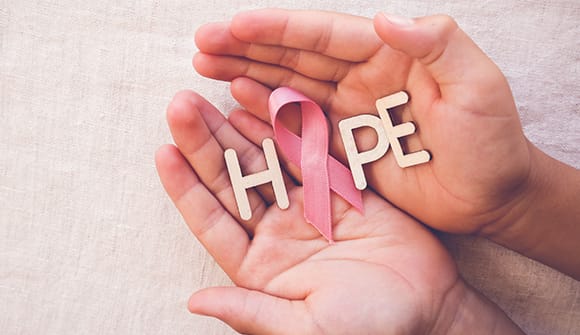 Immunotherapy treatments, in concert with other therapies, have long helped in the fight against various forms of cancer.
And now, the Food and Drug Administration (FDA) approved the first immunotherapy medication for a certain type of breast cancer, providing hope in the future for treatment of other breast cancer types. In March 2019, the FDA granted accelerated approval of atezolizumab (Tecentriq) in combination with nab-paclitaxel (Abraxane) for adult patients with advanced triple-negative breast cancer, which is a rare, aggressive cancer.
Immunotherapy boosts the body's natural defenses to attack cancer cells and restore the immune system. This is done in several ways, including using substances from the body's own immune system; man-made antibodies; medications that help the body identify and attack cancer cells; and cancer vaccines.
"It's just a completely different mechanism to fight cancer than we've previously seen," said Jennifer Crozier, MD, a hematologist/oncologist with Baptist MD Anderson Cancer Center. "Instead of damaging all of these healthy cells, we're helping the body fight this disease more naturally."
Baptist MD Anderson Cancer Center uses immunotherapy treatment to fight various cancers and participates in numerous clinical trials, including several for breast cancer.
"Our breast cancer trials with immunotherapy are moving this promising treatment further along to treat early stages and different types of breast cancer," Dr. Crozier said.
Over the last decade, researchers have developed, and the FDA has approved, immunotherapy drugs to treat numerous cancers like Hodgkin's lymphoma, melanoma, multiple myeloma, lung, kidney, bladder, uterine and more.
Jim Allison, PhD, chair of the Department of Immunology at the University of Texas MD Anderson Cancer Center, for example, won the 2018 Nobel Prize in Medicine for his pioneering research to attack cancer by treating the immune system rather than the tumor. His work led to the first FDA approval in 2011 of an immunotherapy medication to treat late-stage melanoma.
Expanding treatment for all breast cancers
Today, researchers are focusing on ways immunotherapy can treat other cancers, including all types of breast cancer.
"They've revolutionized the treatment of cancer," Dr. Crozier said.
Chemotherapy and radiation are good at destroying cancerous cells, Dr. Crozier added, but those treatments come with some uncomfortable side effects.
"With immunotherapy, you don't have some of the same toxicity as chemotherapy, so usually patients tolerate the treatment well," Crozier said.
But immunotherapy is not a stand-alone solution, Dr. Crozier said. Today, it's used in concert with surgery, chemotherapy and radiation. Crozier points to recent data, for example, that was presented at the European Society of Medical Oncology in October 2018, and led to the recent FDA decision. The data showed that combining chemotherapy and immunotherapy in patients with metastatic (stage IV) triple-negative breast cancer reduced the risk of the disease worsening or even death.
There are three clinical trials at Baptist MD Anderson looking at immunotherapy for patients with various stages of triple-negative breast cancer and patients with other breast cancers.
"In the next couple of years, we are hopeful there will be data to support using immunotherapy in breast cancer as a standard of care," Dr. Crozier explained.
Find out more about the cancer trials that are underway at Baptist MD Anderson Cancer Center.