Pancreatic cancer signs
What we learned from high-profile diagnoses.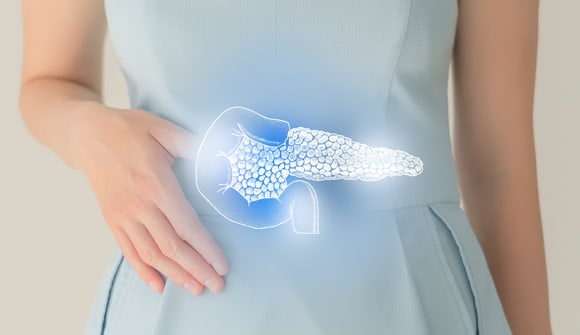 In August 2019, the Supreme Court of the United States announced then-Justice Ruth Bader Ginsburg completed three weeks of radiation therapy for pancreatic cancer and required no further treatment.
Justice Ginsburg's cancer was discovered during a routine blood test. A biopsy confirmed a malignant tumor in her pancreas.
What are some pancreatic cancer risk factors?
Ron G. Landmann, MD, FACS, FASCRS, chief of colon and rectal surgery for Baptist MD Anderson Cancer Center, said smoking is one risk factor for pancreatic cancer. However, according to news reports, the late Justice Ginsburg, who died in 2020 from complications of pancreatic cancer, wasn't a smoker.
People over age 45, men, Ashkenazi Jews, and African Americans have an increased risk of pancreatic cancer. Some patients may be predisposed to getting pancreatic cancer based on a history of other health issues, including obesity and diabetes. Some may also develop pancreatic cancer when existing cancer returns or spreads, otherwise known as metastatic disease. 
Other risk factors include:
Inherited genetic syndromes such as hereditary breast and ovarian cancer

Familial atypical multiple mole melanoma syndrome (FAMMM)

Familial pancreatitis

Lynch Syndrome, a hereditary cancer syndrome that leads to a higher cancer risk

Peutz-Jeghers Syndrome, a genetic condition that leads to an increased risk of intestinal cancers
Preventive measures can be taken to reduce the risk of pancreatic cancer, including eating a healthy diet and leading an active lifestyle.
What are some pancreatic cancer symptoms?
There is no screening for pancreatic cancer and Dr. Landmann said many cancers, including pancreatic, are only found when someone gets a CT scan ordered by their doctor for other symptoms or severe pain. 
Other signs and symptoms that may appear in some people include:
Floating stools or white/discolored stools

Jaundice and yellowing or itchiness of the skin caused by elevated bilirubin levels. Bilirubin is formed during the breakdown of red blood cells and is normally processed through the liver.
"Most primary pancreatic cancers do not manifest until they are more advanced or found during workup for other symptoms," said Dr. Landmann.
Former Jeopardy host Alex Trebek, for example, was diagnosed with stage 4 pancreatic cancer in March 2019 and underwent treatment for the next 20 months.
What are the pancreatic cancer treatment options?
"In all cases, the treatment plan is usually individualized based on the patient's overall status, function, and past medical and surgical therapies," Dr. Landmann said.
The management of the disease has significantly and rapidly evolved with the increasing use of neoadjuvant chemotherapy (administered before surgery or other treatments) and radiation therapy, which is used to shrink the tumor before surgery and assess tumor biology. 
"If a person is diagnosed with pancreatic cancer, it is imperative that they are evaluated and managed at a site that has a multidisciplinary team of providers – surgeons, medical oncologists, radiation oncologists, diagnostic and interventional radiologists, pathologists, geneticists, gastroenterologists and social workers – to maximize patient care, survival and quality of life," Dr. Landmann said.
"Baptist MD Anderson has these specialized multidisciplinary teams in place to provide the most contemporary and personalized treatment for our patients."
---
Find a cancer specialist 
If you or a loved one needs a cancer specialist, please call 904.202.7300 or visit BaptistMDAnderson.com.