Jeopardy! host reveals cancer diagnosis
Trebek vows to fight pancreatic cancer with the help of his medical team.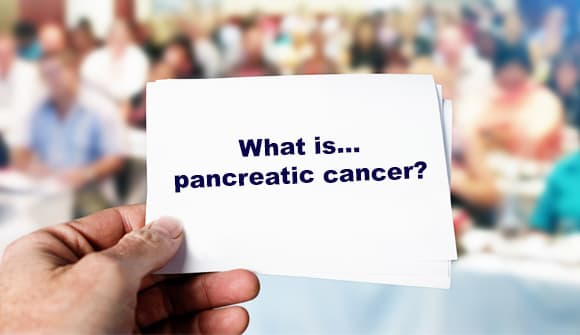 When iconic Jeopardy! game show host Alex Trebek announced he was diagnosed with stage 4 pancreatic cancer, trivia fanatics across the country started rooting for his recovery.
"Now normally the prognosis for this is not very encouraging," said Trebek in a YouTube video revealing his diagnosis. "But I'm going to fight this, and I'm going to keep working."
The American Cancer Society estimates in 2020 about 56,600 people will be diagnosed with pancreatic cancer and about 47,050 people will die from the disease. This type of cancer is slightly more common in men than women,
"Pancreatic cancer is cancer of a small organ located behind the stomach," explained Robert Zaiden, MD, a GI Medical Oncologist with Baptist MD Anderson Cancer Center. "Along with other things, the pancreas is responsible for the production of hormones and enzymes that help with digestion of food and control of blood sugar."
Although there are several different types of pancreatic cancers, the most common type (by far) is that of the exocrine pancreas.
"It remains a highly lethal malignancy, and is the fourth-leading cause of cancer in the U.S., despite accounting for only 3 percent of cancers overall," explained Dr. Zaiden.
While some risk factors for pancreatic cancer can't be changed, such as age, gender, race and family history, some risk factors can be controlled. Smoking, being overweight and exposure to certain chemicals can increase a person's risk.
Symptoms of pancreatic cancer
Yellowing of the skin and whites of the eyes (jaundice)
Pain in the upper or middle abdomen and back
Unexpected weight loss
Loss of appetite
Fatigue
Depression
Blood clots
Gallbladder or liver enlargement
Diabetes
Think these symptoms are vague? You're right. Because the symptoms for pancreatic cancer are nonspecific, most cases are diagnosed in an advanced stage.
According to Dr. Zaiden, complete surgical removal offers the most likely chance of a cure if the tumor has not spread.
Trebek fought for more than a year and a half and passed away on November 8 at the age of 80.
If you have a family history of pancreatic cancer or are experiencing any of the above symptoms, talk to your primary care physician for additional diagnostic tests. Battling cancer demands extraordinary expertise. To learn more about Baptist MD Anderson, visit baptistmdanderson.com.