Power hitter
When throat cancer came for Timothy Parenton, he struck back.
Carolyn Tillo Published: March 26, 2020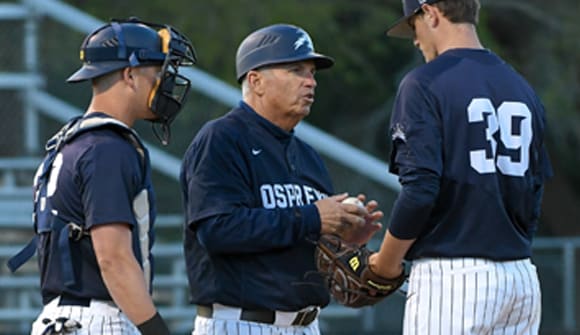 Timothy Parenton, 58, head coach of the University of North Florida's baseball team, had a sore throat. It was February 2019, and colds were common for him that time of year as he breathed in the damp, cooler air during practices and games, so he didn't think much of it. He went to CareSpot Urgent Care, got some antibiotics and thought they would knock the illness out.
But 11 days later, his throat was still sore. His wife, Shelia, told him he needed to see an ear, nose and throat physician. Baptist ENT Specialists ordered a biopsy, which revealed stage II throat cancer. Parenton was immediately referred to Russell Smith, MD, head and neck surgical oncologist at Baptist MD Anderson Cancer Center.
"What a blessing it was to be treated by Baptist MD Anderson," Parenton said. "From my first day there onward, I did whatever my physicians told me to do. I've coached baseball for 29 years, and I played football and baseball at Mississippi State. I grew up listening to my coaches and doing what they said, and that's how I wanted to approach this."
Parenton wanted to listen to the advice of his doctors and follow in the footsteps of his brother, who had beaten colon cancer 10 years before.
A multi-disciplinary approach
To prepare for chemotherapy and radiation to treat his throat cancer, Parenton saw many other members of the head and neck cancer multidisciplinary team. This included a speech-language pathologist, dietitians, and a dentist.
Parenton's treatment plan included getting chemotherapy once a week and radiation therapy five days a week. He began chemotherapy on Mondays, the one day his baseball team has off during the season, and scheduled his radiation early in the morning Monday through Friday so he could head straight to practice from there.
His wife, who supported him throughout his cancer journey, insisted on driving him in for chemotherapy every Monday. Throughout six rounds of chemo and seven weeks of radiation, Parenton only missed one baseball game.
"I really believe that remaining active and being around young athletes helped me to stay positive," Parenton said. "I wanted to show the team that I was not going to give in."
Parenton's assistant coaches and the team's trainer stepped up to help him out during treatment, and he kept them and the team updated about how his treatment was progressing.
Moving forward
After completing chemotherapy and radiation, Parenton had a CT and PET scan in September 2019 to make sure all of the cancer had been destroyed by the treatment. There were some small lymph nodes remaining in the right side of his neck. Dr. Smith gave him the option of waiting to see if the lymph nodes slowly went away or surgically removing them to check for cancer. Parenton opted to get the nodes removed to make sure he was cancer-free.
Test results after the surgery came back negative. While Parenton will continue to be monitored, he doesn't need any further treatment at this time. Parenton said the evolution in cancer treatment options gave him hope. His dad passed away from cancer in 1997 after it metastasized throughout his body, and the available treatments at that time were not as sophisticated.
"I know that every day, the medical field is doing everything it can to cure cancer," Parenton said. "Ten to 15 years ago, I don't know if I would have had the same positive attitude and outcome. But, when I heard people ring that bell after they completed treatment, it kept me going."
If you need a cancer specialist or have questions about our head and neck cancer clinic at Baptist MD Anderson, please call 904.202.7300 or visit BaptistMDAnderson.com.
Close X