Think before you drink
Is there a link between alcohol and cancer?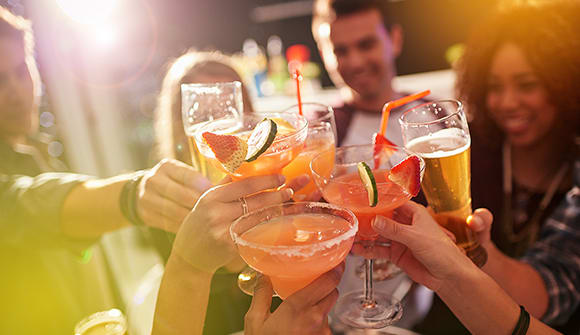 For years, marketing campaigns have warned of the dangers of smoking and, more recently, vaping.
But should we be paying more attention to the dangers of alcohol consumption?
Some consumer and public health agencies say yes, arguing that federal regulators should add warning labels on alcoholic beverages indicating they could cause cancer.
The Department of Health and Human Services' National Toxicology Program has gone so far as to say that alcohol is a carcinogen, a substance capable of causing cancer.
According to the National Cancer Institute, there is a strong consensus that drinking can cause several different types of cancer, including:
Head and neck cancers
Esophageal cancer
Liver cancer
Breast cancer
Colorectal cancer
Jennifer Crozier, MD, a hematologist/oncologist with Baptist MD Anderson Cancer Center, said she recommends no more than one alcoholic beverage a day for women and two for men. One beverage means one serving, so 12 ounces of beer, 5 ounces of wine, or 1.5 ounces of liquor.
"When we talk about cancer-causing agents, we don't talk enough about alcohol, and that needs to change," Dr. Crozier said. "I think the Department of Health and Human Services' decision to label alcohol as a carcinogen is a good first step, but the responsibility lies with each of us to limit our own alcohol consumption accordingly."
The risk of developing an alcohol-related cancer increases the more a person drinks, but Robert Zaiden, MD, a hematologist/oncologist at Baptist MD Anderson Cancer Center, said even light alcohol consumption (less than the recommended one drink a day for women or two for men) over a long period of time increases cancer risk.
When the body breaks down alcohol, it releases acetaldehyde, a toxic chemical and known carcinogen. Alcohol also causes nutritional deficiencies—the more you drink, the less B12 and folic acid your body will maintain. B12 keeps nerve and blood cells healthy, while folic acid aids in cell reproduction. In addition, alcohol consumption leads to hormone imbalances, increasing estrogen levels in both women and men.
Alcohol can also cause cancer in more indirect ways by leading to an increased risk of obesity, which is also linked to increased cancer risk.
"It's never too late to stop drinking," Dr. Zaiden said. "We're already exposed to a lot of different harmful things in our environment. You shouldn't be adding more things into the mix."
Dr. Zaiden suggests talking with your doctor during your next health screening to learn more. Your physician may be able to adjust your screening based on how much you drink.
If you have questions or concerns about the link between alcohol consumption and cancer, talk to your Baptist Health primary care physician. If you don't have one, you can find one by visiting baptistjax.com/request or calling 904.202.4YOU.
Sources: National Toxicology Program, Department of Health and Human Services; Centers for Disease Control and Prevention; National Institute on Alcohol Abuse and Alcoholism; and National Institutes of Health