Boy finds hope 7,000 miles from home
Mongolian mission brings family to U.S. for lifesaving treatment of aplastic anemia.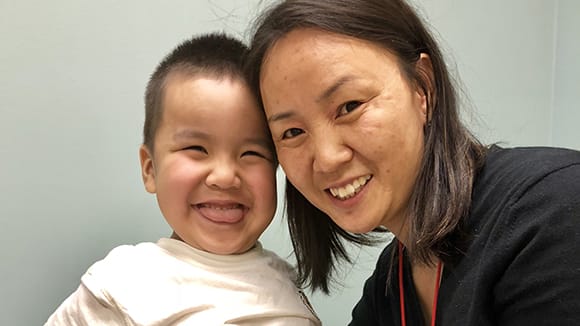 Idra acts like any healthy, rambunctious 5-year-old boy. As his mom boosts him onto the exam table, he tugs at the corners of his mouth and sticks his tongue out to make a funny face at her. When his nurse draws blood from his arm, he watches wide-eyed as the tube turns red and lets out a long "wow!" It's one of many words he has picked up since arriving in the U.S.
Iderbayar Ichinkhorloo, who goes by Idra, traveled from Mongolia with his family to be treated at Wolfson Children's Hospital of Jacksonville and Nemours Children's Specialty Care, Jacksonville. He was diagnosed with severe aplastic anemia in April, leading to intense fatigue, uncontrolled bleeding, fever and a high risk of infection.
A rare, life-threatening condition
"Aplastic anemia is thought to be an autoimmune disease where the patient makes antibodies against his or her own bone marrow," said pediatric hematologist/oncologist Eric Sandler, MD, also director of neuro-oncology at Nemours Children's Specialty Care, Jacksonville. "We don't know why children get this, and it is pretty rare.
"The result is that their bodies can't make the different parts of the blood. Idra's red cell count was low, so he needed regular blood transfusions. His platelets were low and he had nose bleeds as a result of his blood not being able to clot. And his white blood cell count was low, which makes it hard to fight infection."
When Dr. Sandler met Idra at Mothers' and Children's Hospital in Ulaanbaatar, Mongolia's capital city, the boy had been hospitalized for two months with high fevers. The only hospital in the country with a pediatric hematology and oncology team, Mother's and Children's Hospital has benefited from the resources provided each year by Dr. Sandler and a team of specialists, who travel to Ulaanbaatar to provide education to the pediatric oncologists there. The mission is funded by The Jonathan Soud Legacy Endowment for Global Medical Care through the Baptist Health Foundation.
In Idra's case, treatments for aplastic anemia simply weren't available at home. Dr. Sandler explains that because Mongolia is relatively small, only a very limited number of drugs are imported into the country. The anti-thymocyte globulin (ATG) treatment Idra needed wasn't one of them.
"Since aplastic anemia causes the body's immune system to destroy its own bone marrow where blood is made, ATG destroys those immune cells which are attacking the bone marrow," he said.
"My son was seeing a specialist in the hospital for two months when we met Dr. Sandler and his nurse Dana Collins," said Baigal Bayarsaikhan, Idra's mother, through a translator at Dr. Sandler's Nemours office. "Treatment for this disease does not exist in Mongolia and we did not know what we should do. We introduced our son to Dr. Sandler. We asked for help and if there was an opportunity to get treatment for this in the U.S. After he saw the problem with our happy child, he said, 'We can help.'"
When a child is diagnosed with severe aplastic anemia, their risk of dying from complications of the disease increases by 20 percent every year. After five years, only 20 percent of children with this diagnosis are still alive. But with a bone marrow transplant or ATG therapy, most children can be cured.
"His blood cell counts remained low and he was getting blood transfusions multiple times a week," said Dr. Sandler. "His doctors were very discouraged because they have no effective treatment for this disease. The family didn't have the funds to come to the U.S. and get treatment, so Michael Aubin, Wolfson Children's Hospital president, agreed to take this on as a charitable case. That means there was no cost for medical care for the family. They were only responsible for providing transportation to come."
Treatment begins
Once Idra and his parents landed in the U.S., he was admitted to Wolfson Children's Hospital for his ATG treatment. He received the therapy over the course of a week, charming everyone who helped care for him.
"Unless there is a bone marrow donor available, we try the ATG treatment first. That's what we've done with Idra. Typically it can take up to three months before we see the final results of this treatment," Dr. Sandler explained.
Since his treatment, Idra has been undergoing blood tests twice a week to check the results. He and his mother returned home to Mongolia on August 4. Dr. Sandler is tracking Idra's progress and working closely, albeit remotely, with the boy's doctors in Ulaanbaatar, who are still checking his blood cell counts twice weekly.
"They will continue to look at his blood cell counts to see if he needs fewer transfusions and if his white blood cell counts are coming up. We're also going to check his bone marrow and compare it to the sample we took when he first arrived to see if it is recovering," said Dr. Sandler. "He will continue on an oral medicine that works with the ATG for a year or so. Hopefully, this therapy will work and he'll go on to have a normal and healthy life. I don't think this has all slowed him down one bit."
Back home and feeling better
"We are very, very, very happy," said Bayarsaikhan. "We are glad to have come here and to have met all of these nurses and doctors and for treatment at the hospital and the clinic. Our family would like to thank Dr. Sandler and everyone from the bottom of our hearts."
Dr. Sandler will be visiting Mongolia again in the summer of 2019, but doesn't expect to see Idra back in the hospital when he goes.
"This family from Mongolia wouldn't have any other options without this mission funded by the Soud family's endowment at Baptist Health Foundation," he said. "It's clearly very rewarding for us, and our ultimate goal is to make all of these treatments available in Mongolia."
Nemours Children's Specialty Care, Jacksonville: nemours.org