Critical care saves newborn
Baby boy overcomes gastrointestinal condition.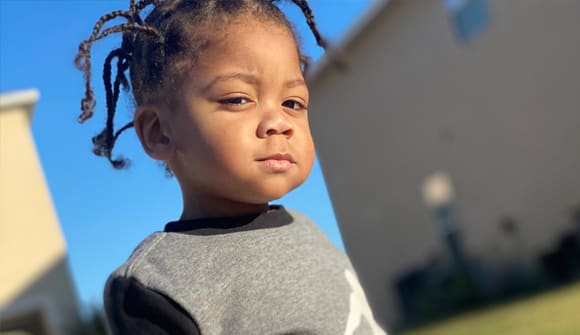 Jovanni has more backpacks than the average 2-year-old, and not just because he's a stylish little guy. Instead of toting books or toys, these bags are designed to carry his feeding tube and pump, so he can run, romp and play wherever he wants.
Jovanni was born with gastroschisis, which means in the womb, his intestines developed on the outside of his abdomen instead of on the inside. Jovanni's mom, Malikah Glover, first learned about her son's condition during a routine ultrasound around 13 weeks into her pregnancy. At five months along, Glover met with a pediatric surgeon with Wolfson Children's Hospital and Nemours Children's Specialty Care, Jacksonville, who explained the procedures Jovanni would need after his birth.
"Gastroschisis is a serious congenital defect which involves protrusion of intestines through the abdominal wall," said Yelena Korotkaya, MD, board-certified pediatric gastroenterologist at Wolfson Children's and Nemours. Though Dr. Korotkaya did not treat Jovanni, she is an expert in the field. "It is one of the common problems in infants and children to cause short bowel syndrome."
Short bowel syndrome occurs when a child lacks the normal length of intestines needed to absorb nutrients, putting him or her at risk for malnutrition and dehydration.
A surprise delivery
Jovanni was born prematurely at 33 weeks on Dec. 10, 2018, after Glover visited her obstetrician and learned she was having early contractions, which were causing her baby's heart rate to drop. He was delivered via cesarean section at Baptist Medical Center Jacksonville and taken straight to the high-level Neonatal Intensive Care Unit (NICU) at Wolfson Children's Hospital. His first of four surgeries was scheduled shortly after.
"They had to put his intestines, which were outside his belly, into a bag to try to preserve them," Glover explained. "But while he was still in the womb, the hole where his intestines came out started to close up and was cutting off circulation to his intestines. That created the next issue for him, which was short bowel syndrome, and almost all of his intestines had to be removed."
"To treat short bowel syndrome, we work on slowly advancing feeds to help the bowel grow and gain more function," explained Dr. Korotkaya.
While her baby boy was in the NICU, Glover learned everything she could from his nurses and pediatric physician specialists about how to feed her baby despite the difficulties.
"I used to come to the NICU twice a day: after I would take my older son to school and again at night. I'd try to be there any time Jovanni needed to eat so I could feed him," she recalled. "I was up there so much they started saying Wolfson Children's was my home."
Out of the NICU, but not out of the woods
After 45 days, baby Jovanni graduated from the NICU to a room on Wolfson Children's medical-surgical unit. Jovanni's second surgery was scheduled for February 2019 to connect his intestines; a third followed in March to fix a blockage that formed after the first procedure.
Jovanni went home for the first time on April 10, 2019, at 4 months old. That June, he underwent surgery number four: a serial transverse enteroplasty procedure (STEP), which arranged his intestines in a zigzag pattern to mimic the longer, looped shape the small intestine usually has. This procedure makes it easier for him to absorb the nutrition he needs after eating, and he hasn't needed to be hospitalized since.
Home, happy and healing
Today, Jovanni is a precocious little boy who loves playing and people. He visits Nemours a couple of times a month for nutrition checkups. He receives most of his food through total parenteral nutrition (TPN), which means a pump sends a mixture of calories, protein, fat, vitamins, minerals and hydration through a feeding tube to a central line on his chest and into his bloodstream. He's also getting better at eating solid foods.
Caring for kids like Jovanni
Not only is Jovanni an example of how Wolfson Children's and Nemours partner to heal little patients and provide a full continuum of care, he's also a reminder of the importance of having leading-edge neonatal and pediatric intensive care available in Northeast Florida. The new Borowy Family Children's Critical Care Tower is currently under construction and is set to open in February 2022. The Tower will feature a 92-bed high-level Neonatal Intensive Care Center and a 35-bed Pediatric ICU to care for the most critically ill and injured newborns and children in the region. A state-of-the-art facility like this ensures families, like Jovanni and Glover, have all the support they need when they need it most, in a place where everyone is focused on getting little ones healthy.
"His condition doesn't seem to hold him back," said Glover. "He's happy-go-lucky, and he loves the outdoors. He's climbing now, and he looks like a little penguin trying to run. He's a loveable baby. Once he recognizes you, he wants to love on you and sit in your lap. He wants you to clap and play with him, watch TV with him, and get all cuddly."
---
To learn more about the revolutionary technology and child- and family-centered features in the new Borowy Family Children's Critical Care Tower, or to support the Tower financially, please visit hopestartshere.com.