Family fights to get baby boy healthy
When her infant got meningitis, a Savannah mom went the distance to get him the best care.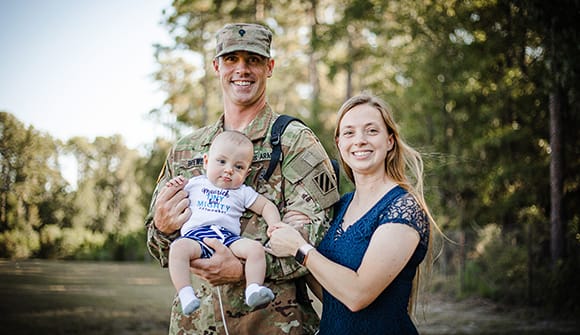 Mothers have a sixth sense when there is something wrong with their baby and they will go far away if that's what it takes to give their child the best care. That's why Amanda Brewer, a retired army service member who lives in Savannah, Ga., brought her infant son, Mavrick, to Wolfson Children's Hospital of Jacksonville.
"It was hard, but I would do it all over again," said Brewer, a mother of four who traveled about 300 miles daily for nearly a month between her home and Wolfson Children's, where Mavrick was receiving life-saving treatment for bacterial meningitis.
Mavrick was born nine weeks early at a Georgia hospital near Hunter Army Airfield, where Amanda's husband, Chris, is stationed. Mavrick weighed only three pounds, seven ounces, at birth.
From the beginning, Mavrick had difficulty eating, so local doctors recommended placing a gastrostomy feeding tube (G-tube) for the infant. Amanda says that at just a week old, Mavrick was diagnosed with MRSA, one of many strains of a bacterium called Staphylococcus aureus, and bacterial endocarditis, an infection of the heart. Mavrick's treatment included antibiotics for six weeks before he was able to go home.
Mavrick's health problems lingered and he was seen at multiple hospitals in Georgia. He had trouble breathing and eating, and was frequently pulling his G-tube out. Within two weeks, Mavrick was diagnosed with a coronavirus, a severe upper respiratory infection.
"We were in and out of the hospital all the time," Brewer said. "When you have a baby with a G-tube, it can be hard."
Brewer joined an online support group for G-tube feeding parents, where families in similar situations shared their experiences and resources. Through the support group, Brewer learned about Wolfson Children's Hospital in Jacksonville, Florida, and its nationally recognized pediatric care.
Mavrick's health challenges persisted. In addition to not eating, Mavrick became irritable and lethargic. Doctors ordered several tests including a CT scan and MRI, which showed swelling and fluid around his brain. Mavrick was diagnosed with life-threatening bacterial meningitis, an inflammation of the lining that surrounds and protects the brain and spinal cord.
"I knew right then I wanted Mavrick transferred to Wolfson Children's," Brewer said. "Chris was deployed at the time but the military sent him home, and we arranged for a babysitter and after-school care for our other children, ages 2-8."
Once the transfer was arranged, Brewer followed the Wolfson Children's Kids Kare mobile ICU carrying Mavrick to Wolfson Children's Hospital. Brewer made the more than two-hour drive from Savannah daily while Mavrick was receiving treatment.
"Everyone at Wolfson Children's Hospital was so supportive," Brewer said. "They knew I was driving two-and-a-half hours each way and that I would have to leave in the afternoon to pick up my other kids. Everyone would reassure me that Mavrick would be cared for while I was gone."
Wolfson Children's medical team recommended antibiotics therapy for Mavrick and a specialized catheter IV that would deliver medications, nutrients and fluids so he could begin to heal and thrive.
"The medical team at Wolfson Children's is amazing," Brewer said. "The doctors listened to my concerns and answered all of my questions. Everyone on their team is so sweet and they treat you like family."
After 20 days at Wolfson Children's, Mavrick completed his antibiotic therapy for meningitis and was released to go home.
"In spite of all he has been through, Mavrick is a happy baby and always smiling," Brewer said. "He's small but he is built tough. You would never know that he has been through so much."
Mavrick continues to receive follow-up care with his Savannah-area pediatrician.
"I am very happy we came to Wolfson Children's Hospital," Brewer said. "I know I made the best decision. They gave my baby the best care."
Wolfson Children's Hospital of Jacksonville offers comprehensive, high-level for children with life-threatening and urgent medical needs. Wolfson Children's Hospital cares for children from North Florida, South Georgia and beyond, providing services in partnership with Nemours Children's Specialty Care, Jacksonville, and the University of Florida College of Medicine – Jacksonville, Emergency Resources Group, and many community partners. For more information, visit wolfsonchildrens.com.