'His heart stopped'
Teen collapses on tennis court after sudden cardiac arrest.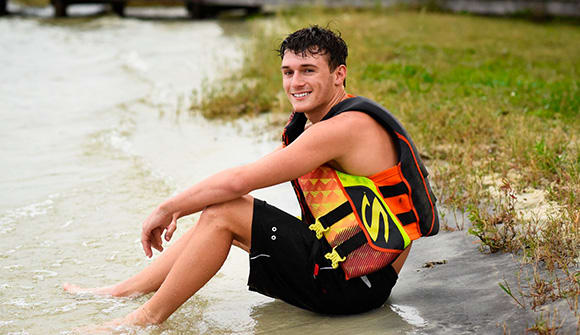 This story was originally published in March 2021.
"What happened?"
Those were the first words 17-year-old Johnnie "Ryne" Jacobs uttered when he awoke from a medically induced coma in the Pediatric Intensive Care Unit at Wolfson Children's Hospital of Jacksonville.
His mother, Heather Jacobs, was wondering the same thing. How did her healthy, athletic son end up fighting for his life? Why did his heart stop beating?
Collapse on the tennis court: Sudden cardiac arrest
On Jan. 20, 2021, Ryne, a Baker County High School senior, was warming up for his first day of tennis practice. His coach had just arrived on the court from the CPR training course all coaches were required to take.
"Ryne was up against the fence and he must not have looked right because the coach went over to him to ask if he was OK," Heather said. "Ryne just fell. His coach caught him, so he never hit the ground."
The coach immediately called 911 and, along with a school resource deputy, started CPR until paramedics arrived five minutes later. Someone at the school called Ryne's father, Johnnie Jacobs, who then called Heather.
"He said that Ryne had collapsed and I needed to get to the high school," Heather recalled. "We thought he just fainted or had low blood sugar. And then when we got there, the chief of Baker County Fire Rescue took us to the side and told us his heart had stopped."
Airlifted for advanced cardiac life support
Ryne was rushed to Ed Fraser Memorial Hospital in Macclenny, where the decision was made to airlift him to Wolfson Children's Hospital on the Kids Kare helicopter. All members of Wolfson Children's Kids Kare Critical Care Transport Team are trained in advanced cardiovascular life support and begin providing life-saving care before transport begins.
Monica Ortiz, RRT-NPS, neonatal-pediatric critical care transport respiratory therapist, and Cortni Sant, BSN, neonatal-pediatric critical care transport nurse, were the team onboard the Kids Kare helicopter the day Ryne's heart stopped.
"Once we had Ryne loaded onto the helicopter, it took less than 10 minutes to get to Wolfson Children's," said Ortiz. "During that time, we noticed some abnormal heart rhythms on the monitor, which we had prepared for. I kept my hand on Ryne's carotid artery to ensure he had a pulse the entire flight while Cortni drew up medications in the event he had another cardiac arrest."
While still in flight, Ortiz and Sant notified the team waiting at Wolfson Children's Hospital of Ryne's condition.
"Ryne went into cardiac arrest again after we landed," Sant recalled. "I jumped onto the stretcher and began CPR, while the rest of the team monitored his central line and pumps, pushed medications, and helped assist with the airway and ventilator."
As all this was happening in the air and on the landing pad, Heather and Johnnie, driven by a close family friend, made their way from Macclenny to Jacksonville.
"I don't have the words to describe how I felt," Heather remembered. "You just don't think your 17-year-old is going to go into sudden cardiac arrest."
In need of cardiac intensive care
In critical condition, Ryne was rushed directly to the Wolfson Children's Pediatric ICU (PICU) and into the care of the pediatric heart specialists with Wolfson Children's C. Herman and Mary Virginia Terry Heart Institute. In the PICU, Michael Shillingford, MD, chief of Pediatric Cardiothoracic Surgery at Wolfson Children's Hospital, immediately took life-saving action.
"We quickly hooked Ryne up to a device called the TandemHeart®, which essentially performed the work of the heart, lungs and kidneys for him. This gave the medical team the much-needed time to work toward a permanent anti-arrhythmic solution," said Dr. Shillingford.
Ryne remained on the TandemHeart® machine and sedated for 48 hours to give his heart time to recover. His family had to wait until he woke up to see whether he had suffered any neurological damage from lack of oxygen to his brain.
"At first he wasn't responding to us," Heather said. "He wouldn't squeeze our hands, wiggle his toes or blink his eyes. But slowly, he started to improve."
About a week after his heart stopped, Ryne turned to his mom and said something she feared she would never hear again.
"I love you."
Heart procedure for a permanent solution
To ensure Ryne would be safe should he experience another life-threatening arrhythmia, a pediatric electrophysiologist put in an implantable cardiac defibrillator (ICD). He is also on medications to regulate his heartbeat.
By Feb. 1, 2021, Ryne was able to walk his first lap around the Wolfson Children's PICU. Three days later – after a total of 15 days in intensive care – he was well enough to be discharged to an inpatient rehabilitation facility.
"Ryne's survival is a true testament to the expert work of the entire Wolfson Children's Hospital team, from the swift transport and the diligent CPR, to the rapid deployment of the TandemHeart® and talented management of the difficult rhythm," Dr. Shillingford added. "Because of the care he received, Ryne is on his way back to doing all the activities he once enjoyed before his cardiac arrest."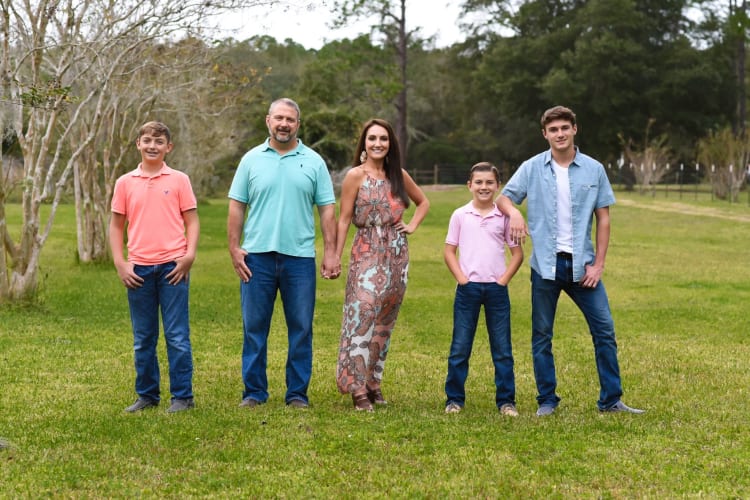 Testing for congenital heart conditions
While testing is still underway to determine what caused Ryne's cardiac arrest, there may be a genetic component. Ryne's aunt was diagnosed with arrhythmogenic right ventricular cardiomyopathy, a disease involving the heart muscle that can cause irregular heartbeats or cardiac arrest, and has an implantable cardiac defibrillator like Ryne now does. To be safe, Heather withdrew her two younger sons from sports while they undergo medical screening for the rare condition.
"There's still a lot that we don't know, but Ryne is getting better every day," Heather said.
Ryne faces a long road to recovery, but Heather knows he's not walking it alone.
"From the moment we arrived at Wolfson Children's Hospital, the whole team wrapped us up in love and walked us through everything that was happening and what was to come," she said. "I haven't found the words to say thank you. I don't know if I ever will."
---
Trust your child's heart to Wolfson Children's
The pediatric cardiology, cardiac intensive care, and heart surgery teams with Wolfson Children's C. Herman and Mary Virginia Terry Heart Institute treat a full range of pediatric cardiac conditions, from heart rhythm disorders to defects present at birth. To learn more, call 904.202.8550.