'I never had a doubt'
Brain tumor battle leads to career helping others.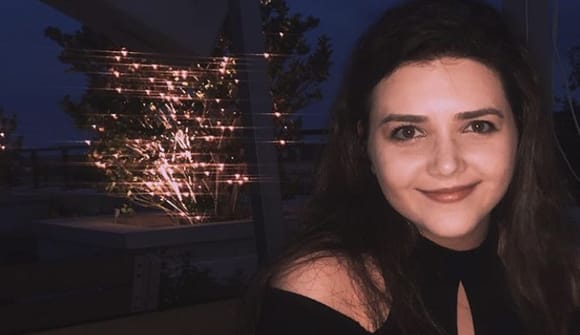 Some of Taylor Pappas' friends still don't know the secret she kept during her teenage years. The now-24-year-old didn't want her brain tumor diagnosis to define her.
"When I had to miss school to undergo treatment, I told everyone I had mono," she remembered. "The only people who knew what was really happening were my teachers and my family."
Minor headaches, major diagnosis
Pappas was 13 when she started getting headaches, the vast majority of which she recalled as being more of an inconvenience than life disruption.
"They were actually pretty minor," she said. "There was just one time at school I went to the nurse's office because it was really bad, and I think that was the only migraine I've ever had."
Though Pappas was unconcerned, her mother pushed for a referral for a CT scan at Wolfson Children's Hospital to rule out anything major. That mother's intuition led to a startling diagnosis.
"That was the first time I noticed that something could be wrong," said Pappas. "After the CT scan, they didn't want me to eat or drink anything. I think they knew immediately that I would need surgery, but they needed an MRI for a more detailed image of what was in there."
The imaging revealed a lemon-sized mass, which turned out to be pilocytic astrocytoma, a rare type of brain tumor of the central nervous system. Pappas was scheduled for neurosurgery the next morning.
First of four
Philipp Aldana, MD, chief of Pediatric Neurosurgery for Wolfson Children's Hospital and the UF College of Medicine – Jacksonville, performed Pappas' first surgery to remove the bulk of the tumor.
"Almost all brain tumors are considered cancerous, but this one is slow-growing," Dr. Aldana said. "The biggest risk to Taylor was that it could grow into the cerebellum (a part of the brain) and brain stem, which could cause difficulty with coordination. If left unchecked, this type of tumor can be deadly."
Surrounded by her "big Greek family," Pappas geared up for a fight that would end up spanning four years, comprised of four brain surgeries and several rounds of proton therapy at UF Health Proton Therapy Institute in Jacksonville.
"This particular tumor was difficult to treat surgically because the cells it arose from looked like normal brain tissue, and we're always careful not to remove normal tissue as doing so could cause difficulty with coordination or other serious problems," Dr. Aldana explained. "We were able to remove as much as possible through surgery, and then proton therapy killed all of the remaining malignant cells."
Following treatment, Pappas received monthly MRIs, which continued to show the tumor was gone. But it wasn't until about a year later that she finally started to let herself feel some relief. She still receives annual MRIs, and looks forward to 10 years post-surgery, when she'll transition to every five years.
Though Pappas admittedly feels nervous going into each scan, she remains optimistic about her future. Dr. Aldana does, too.
"Taylor's prognosis is excellent and the chances of her tumor recurring are very low," he said.
Career calling
Pappas knew she wanted to go into health care from the time she was little, but her brain tumor journey ultimately compelled her to become a mental health provider. She's currently pursuing a master's degree in clinical mental health counseling at University of Central Florida in Orlando.
"After all of my surgeries, I went to therapy," Pappas said. "It really helped me recognize that the battles we face in life are temporary. When you're going through something difficult, your mentality is so strong. I was very confident in the team taking care of me and myself. I never had a doubt I would get past this."
Hoping to someday treat those who have endured trauma, Pappas provided her advice to children and teens facing similar health battles.
"It's OK to feel sad, but give yourself permission to be happy, too," she said.
---
Wolfson Children's Hospital is ranked among US News & World Report's 50 Best Children's Hospitals in the country for Pediatric Neurology & Neurosurgery for 2022-23. To learn more about services provided through the Wolfson Children's Stys Neuroscience Institute, go to wolfsonchildrens.com/neuro or call 904.697.3600 for Neurology or 904.633.0780 for Neurosurgery.