Is it bullying?
How to recognize when your child needs help.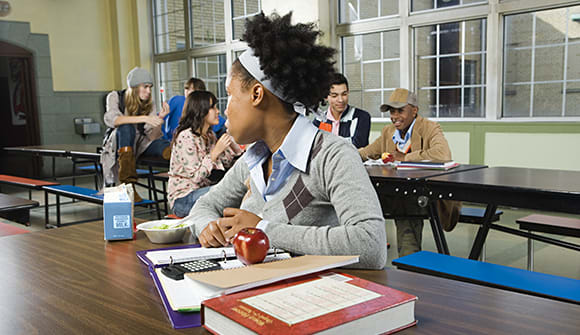 Every parent fears his or her child or teen will be bullied, and unfortunately, with good reason. According to the National Center for Education Statistics, about 22% of students ages 12-18 reported being bullied.
Because your son or daughter may not tell you if they're suffering, it's important to look for the signs.
"You might observe behavioral, emotional, or physical changes that mirror other issues like depression, anxiety, or trauma," explained Francesca Varallo Sims, PsyD, director of education and training for Baptist Behavioral Health and Wolfson Children's Behavioral Health. "Depending on the child's age, these signs can look different. Elementary-aged children may experience changes in their eating or sleeping patterns and physical symptoms like stomach pain or headaches. In teens, parents might notice more acting out, irritability or a significant decline in grades."
Signs parents may notice in children of all ages include:
Emotional outbursts or significant mood shifts
Rebellious, risky or self-harming behavior
Conflict with family and friends
Bruising or unexplained physical injuries
Feeling helpless, hopeless or worthless
Social isolation or withdrawal
Anxiety around people
Avoidance of places or activities they used to enjoy
Cyberbullying challenges
"Social media allows bullies to have 24/7 contact to harass, embarrass, or critique children and teens excessively," Dr. Varallo Sims said.
According to the Centers for Disease Control and Prevention (CDC), cyberbullying is most common for middle school students, with 33% reporting having experienced it. That number is 30% for high schoolers.
"A challenge with cyberbullying is that there's often more anonymity, especially through the use of fake social media pages on apps like Snapchat, TikTok, or Instagram," Dr. Varallo Sims said. "This makes it harder to hold cyberbullies accountable and to effectively end their behavior."
Become cyber-savvy
The best way to prevent cyberbullying is to keep tabs on your child's online activity.
"Monitor directly and/or through parental controls," Dr. Varallo Sims said. "Educate yourself on how your kids are using the internet and social media. For instance, what apps do they have downloaded? Who are they connected to on social media? Who's commenting on their posts and who are they following?"
If you find evidence of bullying, take several immediate steps:
Document dates, times and content of posts or messages
Block the people engaging in cyberbullying
Inform your child's school and ask whether off-campus cyberbullying is addressed in school policy
If specific threats of harm or violence are made, report to local police
Seek professional behavioral health aid if your child is demonstrating symptoms of depression or risk for suicide
Check in
You can promote emotional expression and open communication by asking questions about your child's daily social interactions.
"Initiating these conversations demonstrates that you value their emotions and are available to support them if challenges arise," Dr. Varallo Sims said. "When you ask about potential bullying, be sure to listen, support and validate their feelings and remind them that bullying is not their fault, and they don't have to face the problem alone."
Don't know how to initiate these talks? Dr. Varallo Sims provided some conversation starters:
"What does the word 'bullying' mean to you?"
"Have you seen kids bullied at school? What happened and how did it make you feel?"
"What would you do if that happened to you?"
"Has anyone ever made you feel bullied?"
"What did they say? How can I help?"
"Why do you think some kids become bullies?"
Avoid saying anything that validates the bully's actions, such as:
"You're overreacting, just ignore it."
"They probably didn't mean it."
"You're too sensitive."
Additionally, parents should avoid advising children to ignore bullying behavior, engage in physical confrontation, or contact the bully and his or her family.
Move forward
Parents can try setting up a meeting with the school to discuss ways to prevent future bullying, perhaps by changing seating arrangements in class or on the bus. If that doesn't work and the bullying continues, you can try reaching out to law enforcement.
"Your child may feel helpless, but you have options on how to take action," Dr. Varallo Sims said. "You can provide your child with multiple layers of social support and genuine concern, and this will increase their resiliency and coping ability."
---
You can find more support in trying to get your child or teen to open up with Wolfson Children's On Our Sleeves, which provides parents with free tools and resources to encourage conversations related to emotions and coping with stressors, such as bullying.