Keeping kids active at home
Experts recommend children engage in 60 minutes of physical activity every day.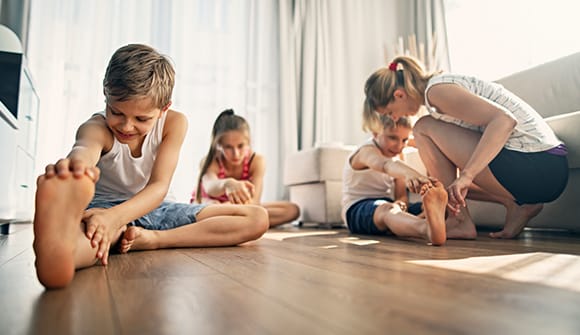 With safer-at-home orders continuing, there's another challenge facing parents and caregivers: keeping kids moving and fit at home. During this time, it is important to continue to practice social distancing while being active.
Experts recommend children engage in 60 minutes of physical activity every day. This guideline is often met through school and after-school activities such as gym, team sports and dance classes. But what happens when these options are no longer available?
There are countless ways to get moving, and many of them can be done with the entire family at home.
"One of the blessings of this ordeal is that many of us are getting to spend more time with our kids," said Jeremy Rush, MD, a pediatric orthopedic surgeon at Wolfson Children's Hospital, and Sports Medicine Program director at Nemours Children's Health System. "Before the stay-at-home orders and social distancing, everyone in my family did their own thing. I worked out at a CrossFit gym, my wife, Erica, goes to CrossBarre (a fitness studio program that combines elements of ballet with strength training), and our three kids had their own sports programs. During this time, we've been doing family workouts at the house and in the yard."
The Rush family workouts consist of CrossFit-style exercises such as shuttle runs, burpees, jumping jacks, box jumps, push-ups and sprints. Dr. Rush suggests incorporating body-weight exercises and calisthenics into family workouts since those activities don't require a lot of equipment or clean up.
"A great routine that my four-year-old loves is the 'zoo workout,' alternating different animal movements such as bear crawls, crab walks, bunny hops and duck walks," said Dr. Rush. "Not only are these calisthenic exercises fun, but they're also great for flexibility and core strength."
His older children, ages 8 and 11, enjoy high-intensity interval training workouts. The drills consist of eight sets of fast-paced exercises performed for 20 seconds interspersed with a 10-second rest period. These exercises are quick and effective, making it a great option to incorporate into a home workout.
Many young athletes, especially those in high school or playing on travel or club teams, are coping with loss. A sports team or club may be their primary social group where they spent up to 12 hours per week practicing or playing their sport.
"Many kids may experience sadness or isolation because they can't play or participate with their team," said Dr. Rush. "These reactions are normal and should not be ignored. It's important to talk about it."
Coaches and parents can help keep young athletes motivated by creating ways to connect virtually as a team. One strategy is to have weekly team meetings through Zoom or FaceTime.
Another technique is to have virtual team workouts and create a "leader board" on Google or another online platform for recording individual results for skills work, mobility exercises or aerobic conditioning. In addition to maintaining a workout routine, the activity creates healthy competition that can help ward off feelings of isolation.
"Teamwork and team culture are built throughout the year, and teams can use this time to grow even stronger," said Dr. Rush.
Wolfson Children's Hospital and its partner, Nemours Children's Specialty Care, Jacksonville, provide comprehensive pediatric orthopedic and sports medicine services. For information, visit wolfsonchildrens.com/services/orthopedics. To make an appointment, call 904.697.3600.