Recovered after tractor tumble
Wolfson Children's Trauma Center gets toddler back to the farm.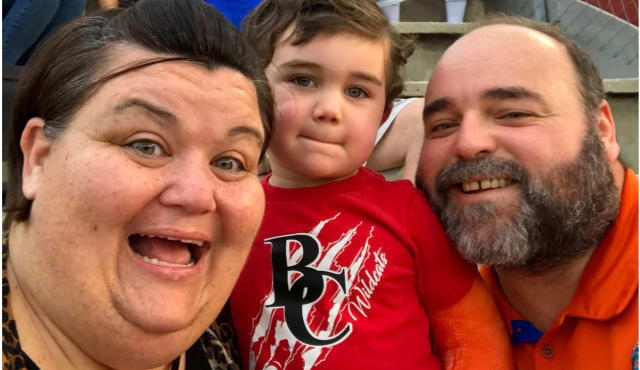 If you see a little buckaroo in a cowboy hat and a shirt that says, "I do my own stunts," you're probably looking at RT Holem, now age 3. A family friend bought him the shirt after the he fell off his family's tractor and was run over at 2-1/2 years old.
Tractor terror
The Holem family — mom Ida, dad Donnie, RT and his younger brother JD — live in Glen St. Mary on 200 acres of farmland with cows, chickens, and plenty of chores to do. When their parents are at work, RT and JD spend the day with their grandparents, Richard and Pam Fish. On one such day in August 2020, Richard (who RT calls 'Git Gat') took his grandson along to do chores while Pam watched baby JD.
"This day, they had gone to a piece of the property away from the house and my dad was mowing a field," said Ida Holem. "It's typically a rule on our farm that you don't get to ride along if there's a mower attached, so RT was playing around and sad he wasn't on the tractor with 'Git Gat.' After about 45 minutes of the sad face, my dad stopped and put him on the tractor with him. RT was wearing a cowboy hat and it flew off. My dad went to grab the hat and RT fell off at that point. As best we know, the tractor tire went over him."
Ready and waiting
Richard dropped everything, put RT in his truck and called Ida. The cell service was patchy so all she could hear was that the toddler fell and had some cuts. Ida told her dad to meet her at their nearest pediatric emergency room: Wolfson Children's Emergency Center – Oakleaf.
"It felt like the entire staff of that ER was in the lobby waiting to see their truck pull up," Holem said. "The doctor who was in charge that day was already talking to me, asking what we knew and preparing me that they may have to transport him to Wolfson Children's Hospital's main location in downtown Jacksonville. It was nice for her to walk me through that process before they even got there."
When Richard and RT arrived, the doctors and nurses immediately started an IV, made sure the little boy was stable and bandaged his wounds. Then, they got him into an ambulance for transport. Wolfson Children's Hospital's main campus is also a Pediatric Trauma Referral Center, where a trauma team is in-house 24/7 in case of emergencies like RT's.
"When we got downtown, it was like organized chaos. One nurse stood right behind me and explained everything that was happening in the room and who people were when they came in, and that was really reassuring," said Holem. "They did a head, neck and abdominal CT to check for internal injuries or bleeding, and those were clear. In his X-rays, his hand had two broken metacarpals, which are the bones that make up the palm. He went straight from his CT into surgery."
Healing hands
Eric Loveless, MD, division chief of orthopedics at Nemours Children's Specialty Care, Jacksonville, and a board-certified pediatric orthopedic surgeon at Wolfson Children's, performed the surgery to repair RT's metacarpals and pin them into place. His wounds were then cleaned thoroughly to remove any foreign debris from his fall.
RT and his parents stayed at Wolfson Children's for four days following the procedure. The little boy had a cast over his leg wound to prevent him bending it and popping any stitches, and one on his hand to keep it still. RT sees Dr. Loveless every four months to monitor one metacarpal that is still healing, and he has had occupational therapy visits at Wolfson Children's Rehabilitation to help him regain the use of his hand.
"He has made a full recovery," his mother said. "He runs, jumps, leaps, does all the crazy things a wild 3-year-old would, and has full function of his hand. He loves anything to do with the farm, and his favorite thing is to spend time with his 'Git Gat.' They have a very special connection and I'm glad this hasn't changed that."
The R in RT stands for Richard, also his grandpa's first name. If you ask RT about his 'Git Gat,' he'll tell you he's the hero who "put me in the truck, drove me to the hospital and fixed my boo boos."
Holem says it's the way the Wolfson Children's team cared for her son and herself — from finding a phone charger to offering a moment of prayer before the ambulance ride — that sticks with her.
"If it had to happen, I knew we were at the best place for care and they would be able to fix my child. We're very blessed to live in an area with such a great children's hospital to take care of our kids and that they looked out for me, as well."
---
If your child is injured, you want pediatric experts nearby who can help. Wolfson Children's Hospital has six Emergency Centers located throughout Northeast Florida. Visit wolfsonchildrens.com/emergency to find the location nearest you and see live wait times. To learn more about pediatric orthopedic services provided by specialists with Nemours Children's Specialty Care, Jacksonville, call 904.697.3600.