Safely spoiling grandbabies
Tips for grandparents visiting little ones.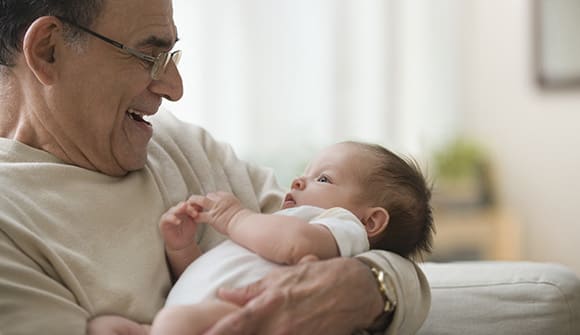 There's no denying the special bond between a child and their grandparents. During the holidays, the desire to snuggle up and spoil grandbabies can be extra strong. However, with viruses on the rise, it's important for older adults to take precautions to help protect young children and themselves. Randy Thornton, MD, a pediatrician on the medical staff of Wolfson Children's Hospital shared what grandparents need to know before spending time with little ones this season.
The gift of vaccination
According to Dr. Thornton, having up-to-date vaccinations is one of the best gifts grandparents can give their families this year.
"Vaccines are the best way to protect yourself and others," said Dr. Thornton. "In addition to vaccines for COVID-19 and the flu, it's really critical for older adults interacting with young babies to receive the Tdap vaccine for whooping cough, a disease that can be fatal for newborns. In fact, any adults who will be around a baby and have not already had a Tdap vaccine should receive one."
Hygienic holiday
While there are vaccinations for the flu, COVID-19 and whooping cough, as of right now, there isn't one for the other big virus on every parent's mind this year: RSV.
Dr. Thornton said, "Because there isn't a vaccine for RSV yet, the best thing grandparents can do to help prevent the virus is practice excellent hygiene."
He recommends:
Washing your hands regularly with soap and water

Keeping your hands away from your face

Not kissing the baby on the face
"Because both babies and older adults are at a higher risk of developing serious RSV symptoms, it's really important for grandparents to take these steps to not only protect their grandchildren but themselves as well," he added.
Hence, common sense
"All in all, the easiest way for grandparents to help keep their grandchildren safe this holiday season is to use their common sense," said Dr. Thornton. "Stay away if you're feeling under the weather, practice good hygiene and stay up-to-date with your vaccines!"
---
When a health crisis affects your child, you need a pediatrician you can trust. For help finding a pediatrician for your child, call 904.202.4968 (202.4YOU). If your child is experiencing any severe symptoms of flu, COVID-19 and RSV, such as difficulty breathing, call 911 or take him or her to the nearest Wolfson Children's Emergency Center.