Signature smile
Rare genetic condition leads to girl's beloved 'crooked' grin.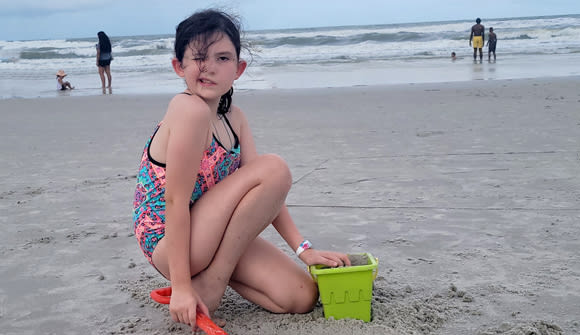 Nine-year-old Kairi Crissman isn't afraid to speak her mind. Her mom, Veronica Estrella, describes her as happy and confident.
"Kairi is a natural-born leader and likes to take charge in anything she does," Estrella said.
Whether playing her favorite video game or spending the day at the beach, Kairi often sports her signature smile, one that curves up on one side, but not on the other.
"We call it her 'crooked smile,' and she likes that," Estrella said. "She's just kind of made it a trademark."
From hearing test to MRI
Kairi has never passed a hearing test, including the one newborns are given shortly after birth. For years, Estrella was told her daughter likely had fluid buildup in her ears, a common ailment for babies and toddlers. But when Kairi reached kindergarten and still couldn't pass her in-school hearing exam, she was referred to an ear, nose and throat specialist who ordered an MRI at Wolfson Children's Hospital.
The results revealed a tumor in then-6-year-old Kairi's brain.
"As soon as the doctor said 'brain tumor,' I couldn't understand anything else, but I did hear the word 'benign,'" Estrella recalled. "What I thought was going to be something really minor turned into this huge thing and journey for both of us, trying to figure out what this is and how it started."
Lifelong diagnosis
After the MRI, Kairi was referred to Wolfson Children's Roseann Duran Genetics Center, where experts determined she had neurofibromatosis (NF) type 2, with a tumor on the left side of her brain.
"Neurofibromatosis is a genetic condition that causes tumors to grow on nerves throughout the body," explained Pamela Trapane, MD, chief of Pediatric Genetics with the UF College of Medicine – Jacksonville, and medical director of the Duran Genetics Center at Wolfson Children's Hospital. "NF type 2 is characterized by the development of benign [noncancerous] tumors, called vestibular schwannomas, on the nerve that carries sound and balance information from the inner ear to the brain. These tumors often lead to partial or complete hearing loss, and may also develop in the brain or spine."
"Hearing the diagnosis solidified the fact that this is not over, and it's never going to be over," Estrella remembered. "Even though they're telling me 90% of these tumors are benign, you're thinking there's no way your child has a brain tumor and there's not going to be horrible impacts."
Though NF is typically passed from parent to child, both Estrella and Kairi's father were tested for the gene mutation after Kairi's diagnosis and neither was found to be a carrier. If Kairi decides to have children someday, they will have a 50% chance of inheriting the condition.
Removal and recovery
Kairi underwent surgery at Wolfson Children's Hospital in April 2020 to remove her vestibular schwannoma. Because it sat near her facial nerve, the tumor caused the left side of her face to be paralyzed, leading to her signature crooked smile. During the procedure, pediatric neurosurgeons found and removed a second tumor within her inner ear – the source of her hearing loss.
In the years since her diagnosis, Kairi has been followed by a multidisciplinary team comprised of pediatric neurologists, neurosurgeons, oncologists, ophthalmologists and otolaryngologists. She receives regular MRIs to check for new tumors. Currently, there's one spot along her spine her Wolfson Children's care team is keeping an eye on but fortunately, there hasn't been any growth in two years.
Though Kairi has to deal with the occasional bully at school, she doesn't let it get her down.
"She doesn't get sad, she gets kind of fired up about it," Estrella said. "To her, she's special."
"Kairi is a bright and spunky young lady," Dr. Trapane said. "Despite her medical issues, she and her family remain optimistic for her future."
Guiding through uncertainty
It can be difficult to navigate a complex diagnosis, which is why the Duran Genetics team at Wolfson Children's Hospital aims to guide parents along the way.
"Knowing a diagnosis helps parents, families and patients prepare for needed medical and surgical interventions, lifelong surveillance and any neurodevelopmental issues that will need support," Dr. Trapane said. "We often help with coordination to ensure the patient is receiving appropriate care from specialists who are experts in their rare condition."
When thinking back to Kairi's diagnosis, Estrella recalled how anxious and fearful she felt about the journey they both were about to embark upon.
"For any parent who is just receiving life-altering news about their child, I'd say it's OK to be mad, sad or question your entire life," she said. "I still have my days and moments. But it's important to pull out of it and set the example for your child. Show them how to find the silver lining and keep pushing forward because there's always going to be something to hold onto as far as hope goes."
---
The Wolfson Children's Roseann Duran Genetics Center provides diagnostic services, genetic counseling and personalized care for babies and children of all ages, from before birth through young adulthood. To learn more, call 904.427.8453.