When families change
How to talk to kids about separation or divorce.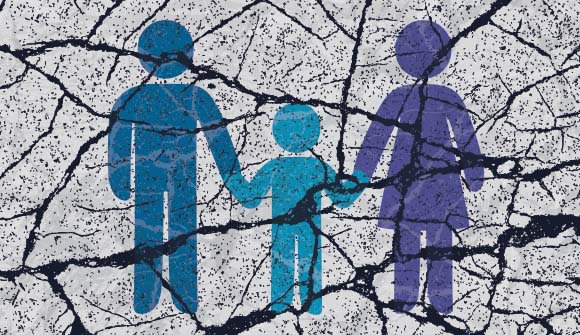 One of the most difficult and painful conversations parents might ever face is talking to their kids about separation or divorce.
The situation is especially challenging for children, who often have a hard time grasping how their lives will change and why this is happening. They process the event as a loss of their family and typically react with shock, sadness, anger, frustration or worry.
"Children will probably remember this significant conversation for the rest of their lives, including what parents say, and when and where they say it," said Francesca Varallo Sims, PsyD, director of education and training for Wolfson Children's Behavioral Health and Baptist Behavioral Health. "For children, the complex situation of divorce represents a pivotal and often traumatic shift in their world. So, it's important parents present a united front and work together to help ease the transition."
While there's no perfect way to break news, there are some things parents can do to help kids through this difficult time.
Before the talk
If possible, parents should work together to get on the same page before telling their children. This includes creating a plan, setting up talking points and developing a clear and consistent narrative.
"Parents should decide in advance what, when and where they will share this news with their children," said Dr. Varallo Sims. "By deciding what to share beforehand, there will be less room for potential surprises, personalization or blame between parents. If parents are unable to collaborate, they should consider enlisting the support of a counselor or divorce mediator to help plan the conversation."
Dr. Varallo Sims also recommended parents be present as a pair when they share the news. This approach reinforces the idea that both are invested, dependable and will likely co-parent well together. It also ensures the separation is relayed as a joint and amicable decision.
Children will likely want to know what changes are going to take place, so logistics should be organized before the announcement.
"In that moment, children are mostly concerned with how the separation will impact their day-to-day lives," said Dr. Varallo Sims. "It's best to focus on details that involve or impact the children directly, such as potential changes to living arrangements and daily routines. Using a concrete and structured approach to present information about what will and will not change can often help reduce feelings of anxiety and uncertainty."
Timing is another important factor, as kids will need space to take in the information, process it and ask questions. Don't plan to share the emotional news around a holiday, birthday or important school day.
Parents' love remains
After breaking the news, parents should try to emphasize statements of reassurance, validation and security.
"Let children know this is not their fault and they are not responsible for keeping the relationship together," said Dr. Varallo Sims. "Sharing certain details, like specific reasons why the separation is happening, will not meaningfully change a child's emotional reaction or acceptance of the news. If those questions arise, it's best to be prepared with a general statement that doesn't place blame and then follow up at a later time with individual discussions tailored to each child's developmental level."
Parents should also reassure children that their love and support will always remain constant despite the changes they are going through.
"It's important to emphasize that it may be hard at first and take time to adjust, but you will all get through it together," said Dr. Varallo Sims. "Let children know they are not alone and that they will always be cared for."
Moving forward
The conversations around separation or divorce will continue over time, during which the family gradually shifts into a new structure.
Every child will have a different emotional reaction and timeline of adjustment, but there are certain indicators to watch for that may show cause for concern, such as:
Changes in sleeping or eating patterns
Developmental regression (bedwetting, etc.)
Decline in school performance
General irritability
Increased clinginess
Misbehavior
Social isolation
"Depending on the child's age, the expression of maladjustment can look different," said Dr. Varallo Sims. "If grief or sadness is starting to impair daily functioning, parents should seek the input of a professional therapist, either at the child's school or in the community. It's best to utilize any available resources early on to promote successful coping and prevent a crisis."
---
Conversations like this are difficult to have. If you don't know where to start, On Our Sleeves has resources to help. Sign up for the Wolfson Children's On Our Sleeves monthly e-newsletter, which features timely, actionable resources for parents, caregivers and other concerned adults. If you need to speak to someone immediately, call the Wolfson Children's 24/7 Kids & Helpline at 904.202.7900 or text LIFE to 741741.