Care beyond expectations
A story of a life saved.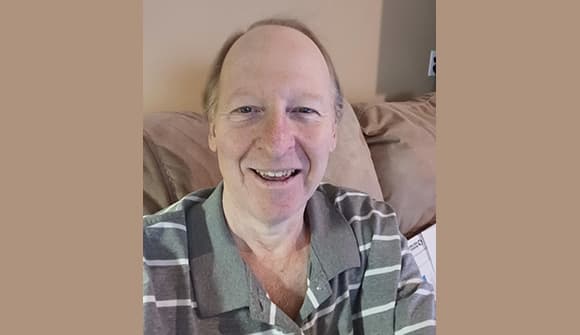 Our guest columnist is Dennis Sanderson, a Baptist Health patient who tells the story of his unusual condition and life-saving medical care.
My introduction to Baptist Health started on a fateful Friday in 2022 while working on my sailboat. All of the sudden, I began to have severe abdominal pain and eventually started vomiting. This went on for hours and I could not alleviate the excruciating pain for even a minute in any position.
Being in a boatyard, I knew it would be hard for first responders to find me, so I realized it was up to me to get to an Emergency Room.
It was crazy driving myself to the ER – I had to tap my face to stay alert along the way – but eventually, I made it to Baptist Clay Medical Campus, a long journey from the boatyard.
My caregivers were superheroes
There was no wait at the Baptist Clay ER, and I made my way over to the desk, clearly struggling to walk, holding onto the counter to keep from falling over. Jill Volk, DO, an emergency medicine physician, began conducting tests to uncover the root cause of my pain.
Dr. Volk's tenacious commitment to her patients was clear as she searched for an answer that had eluded my previous physicians. Her findings started the chain of events that saved my life.
A CT scan revealed a blockage in my small intestines. My nurse, Ma Ela C. Gainey, RN, started a morphine drip, which slightly eased the pain.
I seem to recall in my groggy haze that my nurse, who goes by "Ma," was not tall in stature, but to me, she stood 10 feet tall with the strength of dynamite on steroids because of her commitment to my health. She kept a constant eye on me and didn't hesitate for even an instant as I collapsed. She threw herself between my overarching size and the cold, hard floor. She protected my body with her own and drew on such strength that I never hit the floor. She is the emblem of self-sacrifice and my hero!
'You saved my life!'
Early the next morning, I was taken from Baptist Clay to Baptist Medical Center South by ambulance where the surgery team was ready and waiting for me.
After my general surgeon, Jefferson Edwards, MD,, explained the procedure he would perform to remove the obstruction in my small intestine, I asked when the surgery could be scheduled. He said it would be later that morning, and I was pleasantly surprised at how fast everyone and everything was moving.
I was prepped for surgery and rolled into the Operating Room. The next thing I recall, I was already in the recovery area.
Dr. Edwards explained he had to perform a bowel resection because my small intestine had become enlarged and twisted, cutting off the blood flow. He had to remove about nine inches of bowel that had died.
When I asked if my bowel would have burst without the surgery, Dr. Edwards said it was a real possibility. Finally realizing the gravity of my situation, I exclaimed, "You saved my life!"
Dr. Edwards was too humble to utter those words himself, though when I later said it again, he gave me the slightest of grins and what I took as an almost imperceptible nod. He simply said he was glad he could help me. I am forever grateful to him.
There were so many great caregivers watching over me. They monitored me closely and took my vitals day and night. I appreciated the explanations they provided throughout the process as it made me feel involved in my own care.
Finally, it was my favorite time. As much as I appreciated the amazing care and friendships made in the hospital along the way, I was very happy to meet my discharge nurse. She made the process quick and seamless.
To make it even better, just before I was discharged, my dietary specialist appeared with my last hospital meal. I devoured it since I had finally moved off a liquid diet. He made sure I had the energy I needed to make it out of the building and home, where my recovery journey continued. It was a great send-off.
I'm so grateful to the unbelievable Baptist Health team. With such committed caregivers and a clear culture of excellence, it's no wonder the quality of care sets the gold standard for the industry.
---
When minutes matter, Baptist Health has Emergency Centers throughout northeast Florida to provide life-saving care when you need it most.