Variants and vaccines of 2023
Answers to common questions about this COVID-19 season.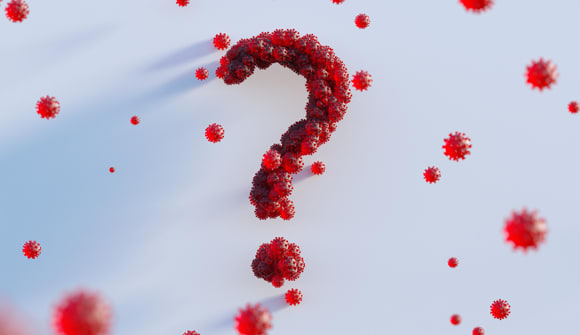 As we head into our fourth fall since the discovery of SARS-CoV-2, the virus that causes COVID-19 continues to ebb and flow in waves like other respiratory illnesses. Shalika Katugaha, MD, system director of Infectious Diseases for Baptist Health, answered common questions about the latest variants, updated vaccines and more.
Are we seeing a late-summer COVID-19 surge?
Though COVID-19 cases are up nationwide, Dr. Katugaha stopped short of calling it a surge.
"The country is experiencing a summer uptick, but not to the degree of the past few years," she said. "Centers for Disease Control and Prevention (CDC) data show hospital admissions started to increase in July after being flat or falling for several months. 
"Every summer during the pandemic, the United States has seen an increase in COVID-19 cases. This could be because people are gathering indoors due to very hot weather, having or attending parties, and traveling. Additionally, immunity from previous vaccines and boosters has likely faded by this point."
What are the current dominant strains?
Though names of COVID-19 variants often look like jumbles of letters and numbers, the current strains are part of a familiar family: omicron.
"The original omicron variant isn't circulating anymore," Dr. Katugaha explained. "Instead, the current dominant strain is a descendent of omicron called EG.5. It was first detected in the United States in April and as of mid-August 2023, EG.5 accounted for 20.6% of COVID-19 cases nationwide. 
"The other common strains right now are also omicron subvariants called XBB. These have been circulating in the U.S. for the past 6 months."
According to Dr. Katugaha, the newer variants are similar to their omicron predecessor in terms of severity and symptoms, which include sore throat and runny nose. She added that antiviral medications currently available should be effective against the circulating strains, and at-home rapid tests will detect the EG.5 and XBB variants.
Will the updated COVID-19 vaccines be effective against the current variants?
"The fall COVID-19 vaccines are intended to target the XBB variants," said. Dr. Katugaha. "Because EG is closely related to XBB, the hope is that the updated shots will match EG.5 nicely, as well."
Is COVID-19 here to stay?
In short, yes.
"COVID-19 will be an ever-present virus like the flu," Dr. Katugaha said. "And, just like the flu shot, COVID-19 vaccines will become an annual thing tailored for specific variants to provide protection through the year. Other means of prevention are also key. It's always a good idea to stay home when you're sick and to wash your hands often and well."