Oh my cron!
5 things about the new omicron COVID-19 variant.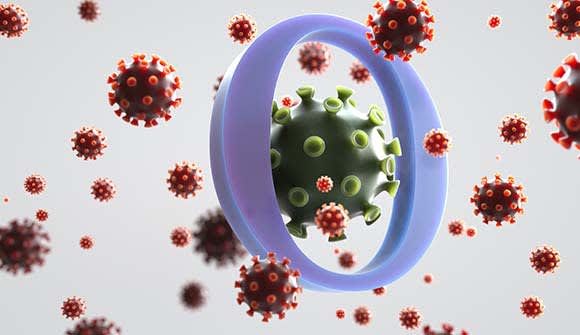 While there is still a lot to learn about the new omicron variant of COVID-19, news of the strain is certainly spreading quickly around the globe. Shalika Katugaha, MD, system medical director of Infectious Diseases at Baptist Health, shared what we know so far.
1. Where was the omicron variant detected? The new mutation was first reported to the World Health Organization (WHO) on Nov. 24, 2021, from South Africa and has since been detected in other places including the United States, Hong Kong, Netherlands, United Kingdom, Botswana and Canada. The first case of the omicron variant in the U.S. was reported on Dec. 1, 2021, and is now confirmed in nearly 20 states. More cases are expected to arise throughout the nation.
2. Is the variant more contagious and dangerous? "This is such an important question and we are still waiting on a definitive answer," said Dr. Katugaha. "What we can say now is that mutations in the virus and the rate of spread in South Africa strongly suggest that it may be more contagious that other variants we have encountered, including delta."
Hospitalizations are a later metric, meaning it takes time for a person to contract the virus and then develop severe enough symptoms to need treatment at a hospital. According to the data available today, the vast majority of hospitalizations have been in people who are unvaccinated.
"In a preliminary study from South Africa, scientists found that the omicron variant is at least three times more likely to cause reinfection than previous variants," said Dr. Katugaha. "Initial data suggests that omicron can override natural immunity people may have from having a previous COVID-19 infection. Vaccines are still protecting against serious disease."
3. Will omicron affect kids? As delta became dominant, there was a surge in infections in kids because the variant was more contagious. "We need more data to answer this question about omicron," explained Dr. Katugaha.
"Anyone not vaccinated is at increased risk of infection from COVID-19. Right now, only 10% of children ages 5 to 11 in the U.S. have received a vaccine," said Dr. Katugaha. "It's great progress, but there is still a long way to go. It's really important that children ages 5 and up get the vaccine as soon as possible."
4. Why the name? According to the WHO, COVID-19 variants of concern or interest are to be named after letters of the Greek alphabet to avoid confusion from their scientific names, as well as prevent discrimination that may come with naming a variant after its country of origin.
Omicron is the 15th letter of the Greek alphabet. The most recent well-known variant was delta, followed by lesser-known variants of interest, lambda and mu. The next letters, nu and xi, were skipped. According to WHO, nu could be easily confused with the word, "new," and xi is a common last name. This led us to omicron.
5. Will vaccines work against omicron? "Vaccines will give some degree of protection, and will still work to prevent serious illness. Further studies are needed to determine how much of the shots' effectiveness may be reduced," explained Dr. Katugaha. "Still, our strongest defense against severe disease remains the vaccines."
Dr. Katugaha also noted vaccine manufacturers are ready and equipped to pivot in producing a new formula to specifically target a certain variant, if needed. For now, she emphasized the best protection is getting your COVID-19 vaccine and booster. All individuals age 16 and over are now eligible for a booster.
---
At Baptist Health, we want to help keep our community informed about COVID-19. For more information about COVID-19 vaccines, visit baptistjax.com/covid19vaccine. Click here to find a vaccination location near you.