A shot for kids
5 things parents should know about COVID-19 vaccines for children 5-11.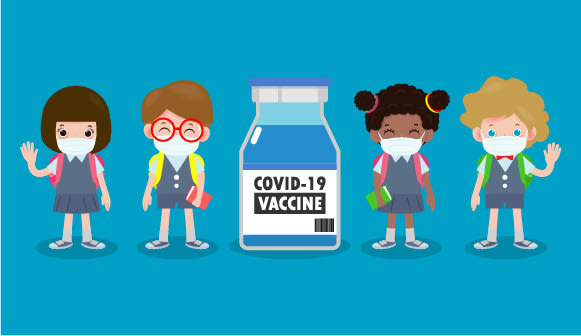 While some parents are counting the minutes until they can get their little ones vaccinated against COVID-19, others are more hesitant. But the more people who get the shots, the greater handle we'll have on conquering COVID-19 and stopping future variants. Mobeen Rathore, MD, chief of pediatric infectious disease and immunology at Wolfson Children's Hospital, shared 5 things parents need to know about COVID-19 vaccines for kids.
1. Experts say the vaccine is safe for children 5 to 11.
The U.S. Food and Drug Administration (FDA) has authorized Pfizer-BioNTech's COVID-19 vaccine for emergency use in children 5-11, and both the U.S. Centers for Disease Control and Prevention (CDC) and the American Academy of Pediatrics (AAP) recommend vaccination for children as young as 5.
No serious side effects have been detected in ongoing clinical trials. Research showed the vaccine is safe, well-studied and has not been rushed.
2. Kids are not getting the same dose as adults.
Children ages 5 through 11 will receive one-third of the adult dose of the Pfizer-BioNTech vaccine. It will be administered using smaller needles, designed specifically for children. Similar to what has been seen in older children and adults, research has shown the vaccine to be highly effective at preventing symptomatic COVID-19 in children 5-11.
3. Children DO get infected with COVID.
Though most kids don't get as sick as adults, some may get very ill and end up hospitalized, admitted to the pediatric intensive care unit (PICU), or even die of COVID-19. Plus, even if kids are asymptomatic or have mild illness, they can still get Multisystem Inflammatory Syndrome in Children (MIS-C) (a serious condition that is the direct result of COVID-19 infection) roughly four weeks after the initial infection. Children may also suffer from long COVID-19.
4. Natural immunity isn't enough.
Even if someone has antibodies from a previous infection, he or she still needs the COVID-19 vaccine for adequate protection. According to Dr. Rathore, we know this from experience with vaccinations against other infections such as whooping cough.
5. The benefits outweigh the risks.
If you're hesitant to get your children vaccinated because of possible long-term effects, know that most adverse effects of any vaccine occur in the first six to eight weeks after inoculation. Any minor side effects reported from the vaccine were less harmful than what is caused by COVID-19 infection. Dr. Rathore emphasized the benefits of the vaccine outweigh any harm when compared to natural infection.
"There are no 100% guarantees with anything in life," said Dr. Rathore. "We take a risk when we drive our cars every day, but we can make the drive safer with seat belts and airbags. Similarly, we can make our children safer with vaccines and masks."
---
We know you have questions about the COVID-19 vaccine for children. At Baptist Health and Wolfson Children's Hospital, we want to help keep our community informed. For answers to frequently asked questions about the vaccine for children, including vaccination locations, visit wolfsonchildrens.com/covid19. For more information about COVID-19 vaccines for adults and children, visit baptistjax.com/covid19vaccine.