Waiting on the FDA?
Why the COVID-19 vaccines are safe, now.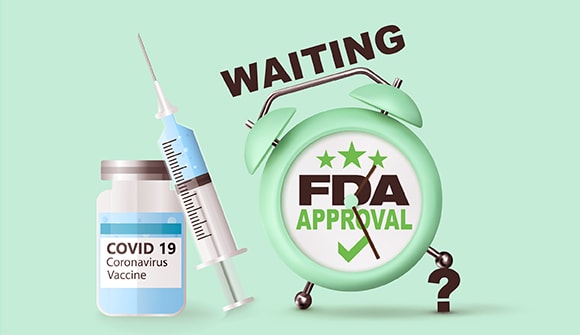 If you're hesitant to get the COVID-19 vaccine because it has only received Emergency Use Authorization (EUA) from the U.S. Food and Drug Administration (FDA), experts want you to know that safety was not sacrificed during the development process.
Though some people are wary due to concerns that the vaccines haven't yet received full FDA approval, the authorization for emergency use means the shots have proven to be safe for public distribution. Plus, they are remarkably effective at keeping people out of the hospital, including during the latest surge fueled by the highly contagious delta variant.
'Emergency use doesn't mean experimental.'
There are currently three COVID-19 vaccines with emergency use authorization: Pfizer, Moderna, and Johnson & Johnson. To receive EUA, safety and efficacy had to be demonstrated in several phases of clinical trials.
The first phase included 20 to 100 people. Since there were no serious side effects, the second phase expanded to hundreds of volunteers. Phase 3 of the trial consisted of thousands of people.
According to the FDA, the focus on resources and speed of the process did not sacrifice the scientific standards, integrity of the vaccine review process or safety.
"When you apply for an EUA, the FDA wants at least two months of safety data following the second dose. Companies can only seek EUA when an emergency exists, otherwise they typically need six months or more of data to submit to the FDA. In times of crisis and pandemics like this, we need fast data. In this case, we have enough information in the context of what is going on," explained Shalika Katugaha, MD, system director of Infectious Diseases for Baptist Health. "Emergency use does not mean it is experimental. We have data from the third phase of trials. Millions have received the vaccine under the EUA, and the shots have proven to be safe."
What does full FDA approval mean?
For full approval, the FDA wants at least six months of data.
"The reason we don't have full approval for the COVID-19 vaccines yet is based on a timeline issue rather than a safety issue," Dr. Katugaha said. "The approval is more a formality than a deal-breaker. The real concern would be if it did not get the EUA approval."
In May 2021, Pfizer had six months of safety data and that June, Moderna had enough data to apply for full approval. Both vaccines have greater than 90% efficacy six months out, according to Dr. Katugaha.
Achieving full approval from the FDA is a long process that includes analysis of data and questions to medical officers and the vaccine companies.
"Nothing was ever rushed. Messenger RNA (mRNA) vaccines are not new. When the pandemic hit, scientists just used this platform to make vaccines for COVID-19. Then, the governments that could afford to put all their resources into making vaccines happen, did," Dr. Katugaha said. "I feel very confident telling everyone I know to get the vaccine. It takes a long time to get full FDA approval, but because people are hesitant, many health experts are calling on the FDA to expedite the process. The FDA is putting a lot of resources into trying to make the review process go faster while maintaining the thoroughness of the process."
---
At Baptist Health, we want to help keep our community informed about COVID-19. For more information about COVID-19 vaccines, visit baptistjax.com/covid19vaccine. Click here to find a vaccination location near you.