The next dose
5 things to know about COVID-19 vaccine boosters.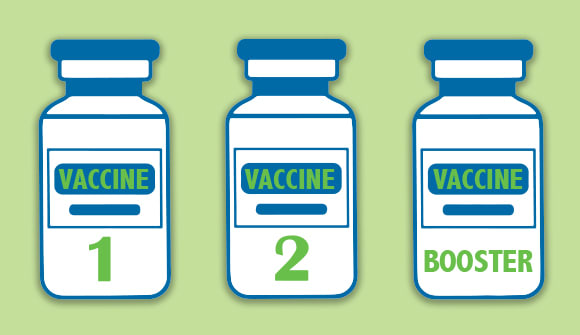 As the United States continues to see COVID-19 infections fueled by the highly contagious omicron subvariants, BA.4 and BA.5, the Food and Drug Administration (FDA) and Centers for Disease Control (CDC) have given the green light for updated COVID-19 booster shots. Here are the top 5 things you need to know.
1. Is this new booster the same as the other boosters?
The Pfizer-BioNTech and Moderna vaccines introduced in 2020 and 2021 were based on messenger RNA (mRNA) technology, which works by teaching your immune system to build antibodies that fight COVID-19.
"The new boosters are updates to the original vaccines," explained Dr. Katugaha. "The updated versions contain two mRNA components of the virus that causes COVID-19: one for the original strains and the other for the BA.4 and BA.5 variants. We call the vaccines 'bivalent' because they elicit an immune response against two variations of the virus."
2. Who's eligible for a COVID-19 booster?
On August 31, 2022, the FDA authorized updated COVID-19 booster shots that are specifically tailored to combat the subvariants BA.4 and BA.5. The CDC endorsed them a day later. As of December 9, 2022, the FDA authorized updated booster shots for children aged six months and above.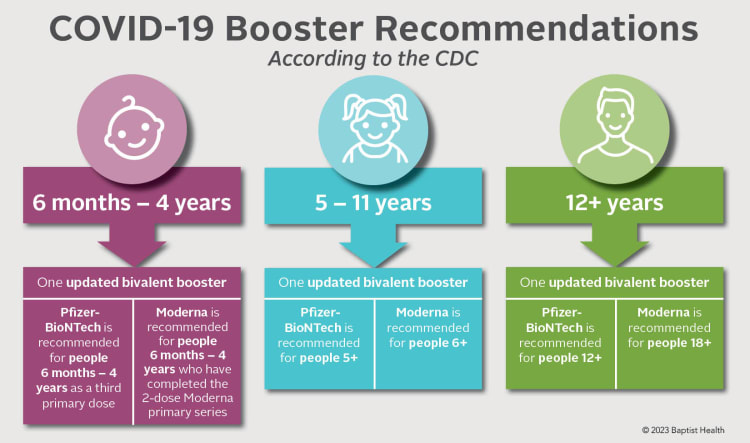 3. Why is a COVID-19 vaccine booster needed?
"Updated COVID-19 boosters provide broader protection against the newer variants and can help restore protection that has decreased since previous vaccinations," explained Shalika Katugaha, MD, system director of infectious diseases at Baptist Health. "The hope is that by matching the vaccine to the dominant circulating strains of the virus, there will be less breakthrough infection."
An updated booster is particularly important for anyone who has a weakened immune system. According to the CDC, immunocompromised people account for a large proportion of vaccinated individuals who are hospitalized with COVID-19, and those who are moderately to severely immunocompromised are at higher risk for serious, prolonged illness. With the more contagious variants circulating, it's more important than ever to be protected.
4. How long after my first doses should I wait for the booster?
According to the CDC, the new bivalent shot may only be used as a booster (not as a primary vaccine) and should be received at least two months after completion of an initial series of shots or any previous booster.
5. When will the new booster be available to the public?
Now! According to the CDC, as of September 7, 2022, only 48.6% of eligible Americans had received their first booster shot, and only 34.3% had received their second.
"If you've been waiting to get your first vaccine, there are now mRNA and protein subunit options, and now is the time. You need to get your primary series before you can get an updated booster," said Dr. Katugaha. "These vaccines are an essential part of ongoing protection against COVID-19, along with good hand hygiene."
---
At Baptist Health, we want to help keep our community informed about COVID-19. For more information about COVID-19 vaccines, visit baptistjax.com/covid19vaccine. Click here to find a vaccination location near you.