Triple-demic?
Three threats: flu, COVID-19 and RSV.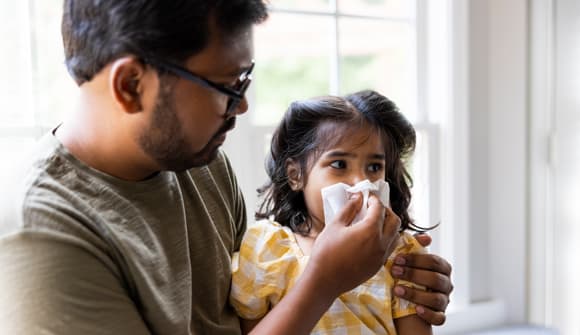 With flu season in full swing, COVID-19 cases creeping up, and respiratory syncytial virus (RSV) on the rise, many experts are warning of a "triple-demic" this winter.
Since all three viruses have similar symptoms – sore throat, cough, runny nose and fever – it can be almost impossible to know which you have without a test.
"You can test for COVID-19 at home. Around this time of year, if you go see your doctor, he or she will likely test you for all three," said Shalika Katugaha, MD, system medical director of Infectious Diseases at Baptist Health.
Protecting yourself is easy
The three viruses are spread through contact with respiratory droplets from an infected person who coughs or sneezes. While the flu, COVID-19 and RSV can infect people of any age, infants, immunocompromised children, and older adults are more likely to develop severe illness.
If you do find yourself testing positive for any of these viruses, you should stay home, hydrate and monitor for severe symptoms (like trouble breathing) that would require immediate care, Dr. Katugaha said.
"There's a lot of fear associated with the term 'triple-demic,' but the truth is, we're not powerless against it. We're so much better off now than we were even two years ago in the world of respiratory viruses," she said. "We have the right tools, and they're the same ones we've been using and improving throughout the pandemic."
Get vaccinated
The main line of defense against two of the three viruses is the same.
"Both the COVID-19 and flu vaccines have great data behind them in terms of preventing severe disease and death. Everyone over 6 months is eligible for these vaccines. Anyone over 5 can get the updated omicron booster shot for COVID-19," said Dr. Katugaha.
There isn't a vaccine to protect against RSV yet, so taking precautions to protect yourself and your children is important. The good news is you might already be taking all the necessary steps.
"We should continue what we've been doing the last two years: wearing a mask if you're sick, washing your hands, disinfecting surfaces, covering your cough or sneeze, and staying home if you're sick," Dr. Katugaha said. "If your child is ill, don't hesitate to reach out to your pediatrician. If your child has trouble breathing, you should take him or her to the nearest Emergency Center immediately."
What's causing the surge?
The 2022 flu and RSV seasons started earlier this year than in years past, likely due to pandemic-related precautions being relaxed.
"Over the past two years, we've had decreased exposure to flu and RSV. With our immunity down, we're more susceptible to severe disease. Additionally, people are taking their masks off and going out in the world, so we're seeing these respiratory viruses increase," Dr. Katugaha said.
According to a 2018 Centers for Disease Control and Prevention study, flu vaccination among adults reduced the risk of being admitted to an ICU with flu by 82%. Additionally, data suggests the new omicron-specific COVID-19 boosters raise your protective antibodies, which prevents a more severe infection, Dr. Katugaha said.
It takes two weeks to develop immunity from the flu and COVID-19 vaccines, so the time to get vaccinated is now, she added.
---
If your child is experiencing cold- or flu-like symptoms, call your pediatrician or request an appointment online. If your child is experiencing any severe symptoms, such as difficulty breathing, take him or her to the nearest Children's Emergency Center or call 911.