Relief from RSV
New tools to kick the sick, from vaccines to antibodies.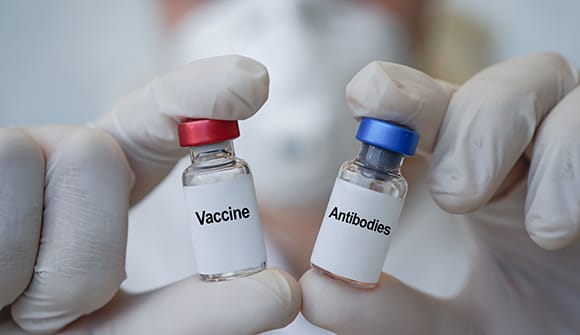 As summer winds down and the promise of fall is on the horizon, people are preparing for the dreaded germ-filled sick season. But this year, there are new tools to ward off one of the biggest threats to babies and the elderly: respiratory syncytial virus (RSV).
In mid-July, the U.S. Food and Drug Administration (FDA) approved a new monoclonal antibody injection to prevent RSV in babies and certain toddlers. Just two months earlier, the FDA gave the green light to two RSV vaccines for adults 60 and older. Then, in August, the FDA approved the use of one of those vaccines – Abrysvo™ – for use in women 32 to 36 weeks pregnant to protect the unborn baby from severe RSV from birth through 6 months. All are expected to be available for the upcoming RSV season, which typically peaks between December and February.
Protection beyond preemies
The monoclonal antibody injection – known as Beyfortus – can be given to newborns and infants under 8 months old entering their first RSV season. Babies and toddlers 8 to 19 months old who may still be at risk for severe illness during their second RSV season may also receive the shot.
"Monoclonal antibodies provide immediate and short-term protection," explained Shalika Katugaha, MD, system director of Infectious Diseases for Baptist Health. "Monoclonal antibodies are laboratory-made proteins that bind to the infection, in this case RSV, to help clear it. With this type of injection, the body's immune system doesn't mount a response to something foreign like it would with a vaccine."
Though a similar drug already existed for newborns, it was only available for babies at risk of severe RSV, like those with underdeveloped lungs due to prematurity. All babies under 8 months, including those without risk factors, are eligible for the new shot.
Options for older adults
While newborns and infants are at risk of severe illness from RSV because their immune systems aren't fully developed, the elderly are also vulnerable because the immune system weakens as people age. That's why it was a priority for researchers to develop a shot for the elderly.
"Vaccines work differently than monoclonal antibodies," said Dr. Katugaha. "The RSV vaccines introduce an inactivated protein into the body that imitates the virus. The body then produces antibodies to protect the person from RSV infection. Vaccines train the immune system and boost long-term immunity."
The two FDA-approved RSV vaccines work in the same fashion as a traditional flu shot and don't use mRNA like COVID-19 vaccines do. Both require a single annual dose.
A vaccine 'game-changer'
Though the vaccine and antibody injections only address a small (albeit, vulnerable) portion of the public, they serve as critical first steps toward widespread protection.
"The RSV vaccine has been six decades in the making, and it's groundbreaking," Dr. Katugaha said. "It's potentially a game-changer in terms of public health and viral epidemiology because it will truly prevent severe illness, hospitalizations and deaths in older adults. Hopefully, it will lead to an RSV vaccine for children in the near future."
---
During cold, flu and RSV season, your primary care doctor and pediatrician are your best resources for preventive vaccines and treatment if you get sick. To find the right provider for you and your family, call 904.202.4YOU (4968) or fill out the appointment request form.