Smooth heart operation
'It just blows my mind what they can do.'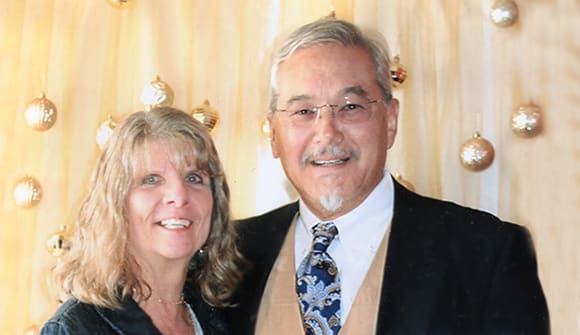 Seventy-year-old Greg Dimain attributed his general tiredness and shortness of breath to his age. But when he began to need an afternoon nap to get through the day, he decided it was time to visit his doctor.
"I really didn't think it was anything out of the ordinary for my age, but I spoke with my wife, and we decided I should get checked out," said Dimain. His Baptist Primary Care physician, Luciano Lorenzana, MD, referred him to cardiologist Nehu Patel, MD, FACC, with Baptist Heart Specialists, who ordered a calcium score test to detect plaque in the vessels supplying oxygen-rich blood to his heart.
'I broke the record'
"Dr. Patel told me I broke the record with my calcium score test," Dimain said, adding he initially wasn't sure if he should be pleased by this "achievement" or not. It turns out Dimain's calcium score was a whopping 4,600 when it should have been zero. This means he had a lot of plaque buildup blocking blood flow and was at risk of having a heart attack.
Dr. Patel scheduled Dimain for a minimally invasive heart catheterization procedure to remove the buildup. But during the procedure, he realized the blockages were more severe than expected. Two blood vessels were around 99% blocked and the third was at 70%.
A catheterization procedure couldn't fix the problem, only open-heart surgery could.
"Without a triple bypass, I would have had a major heart attack within one to three years," Dimain said.
He was immediately admitted to Baptist Heart Hospital at Baptist Medical Center Jacksonville, where Chief of Cardiac Surgery Nathan Bates, MD, FACS, would perform a coronary artery bypass grafting (CABG) procedure, more commonly known as heart bypass surgery, to improve blood flow to the heart. Patients typically have a more severe blockage of 70% or higher before being referred to Dr. Bates' team for surgery. "The minimum we see is 60%," he explained.
Baptist Jacksonville is renowned for its heart surgery procedures. It has the highest rating from The Society of Thoracic Surgeons for excellent patient care and outcomes for isolated bypass procedures. Additionally, Baptist Health performs more bypass procedures than any other heart surgery center in the area.
"We want people in the Jacksonville community and surrounding areas to know that Baptist Health is the place to come for heart surgery," said Dr. Bates.
Relief from video research
The night before his surgery, Dimain searched for videos of triple bypass procedures online.
"It was driving me nuts, not knowing exactly what would happen. I couldn't help it, I had to see what it was all about," he said. Once he got past images of the incision, he was able to focus on the skill, dedication and professionalism needed to perform such surgeries.
"I was just amazed at the whole process and that gave me great comfort, seeing how it was done," he said. "I then thought, 'OK, I'm good.'"
Eight weeks into Dimain's recovery, he still found the whole experience surreal.
"It's amazing how you're just living your life one week, and then it can change so dramatically the next," he said.
Aside from feeling some sensitivity in his chest, Dimain is doing well, walking two to three miles a day, and looking forward to getting back to swimming with his grandkids.
"I want to thank Dr. Bates, his wonderful physician assistant Craig Acosta, PA-C, and the whole team from the bottom of my heart. It just blows my mind what they can do," he said. "They're absolutely amazing."
---
Whether you're in need of life-saving surgery or exploring treatment options for a complex heart condition, Baptist Health's elite team of cardiac specialists is committed to delivering the highest standard of care every step of the way. To learn more, visit baptistjax.com/heart or call 904.720.0799.