A lot to live for
New device gives heart failure patient hope for future.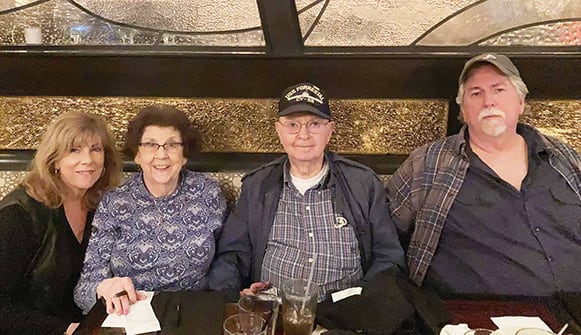 Charles Lancaster, 80, has a simple reason for undergoing surgery using a new device designed to improve heart failure patients' symptoms and quality of life: "I'm not ready to go yet."
Lancaster was one of the first patients to receive the BAROTSTIM NEO® System at Baptist Health, the first health care system in Northeast Florida to implant the device. The innovative pacemaker-like device is designed to improve cardiovascular function.
Heart failure, which occurs when the heart can't pump enough blood and oxygen to support other organs in the body, impacts about 6.2 million adults in the U.S, according to the Centers for Disease Control and Prevention (CDC).
Worth a shot
About five years ago, Lancaster, a twice-retired military veteran (Navy and Air Force) and retired truck driver, had been suffering from extreme weak spells and fatigue. He sought help at one hospital, but the problem persisted. He then came to Baptist Heart Hospital and met with Aaditya Vora, MD, clinical cardiac electrophysiologist. Dr. Vora told Lancaster he had an irregular heartbeat, likely from two heart attacks at some point, and administered a defibrillator to send an electric pulse or shock to help restore normal rhythm. When Lancaster began suffering again with weak spells and fatigue last summer, Dr. Vora recommended the BAROSTIM NEO® System.
"I had to stop and rest between the house and the mailbox, which is about 100 yards," Lancaster said. "Dr. Vora said it was worth a shot, or I'd have to live with my weak spells."
A unique solution
The BAROSTIM NEO® System is a U.S. Food and Drug Administration (FDA)-approved electrical stimulator. It's implanted under the collarbone with a lead going up the carotid artery, where it stimulates the heart's natural blood pressure sensors, called baroreceptors. These sensors detect blood pressure and send information to the brain, which responds by relaxing blood vessels. This slows the heart rate and reduces fluid in the body through improved kidney function.
"The device is continuously fine-tuned by medical personnel to provide optimal stimulation to the carotid baroreceptors, which in turn allows the body to turn off many of the negative signals that impact the heart," said Dr. Vora. It is programmable for each patient's unique cardiac needs.
"We're excited to bring this new technology to our advanced heart failure patients," said Erin Moore, MD, vascular surgeon, Cardiothoracic & Vascular Surgical Associates PA, who performed the first implants at Baptist Health along with Dr. Vora and the Baptist Heart Specialists team. "This implant uses the power of the brain and nervous system to help these patients feel better, be more active and have a better quality of life."
A centennial goal
Lancaster said he's feeling better since surgery, and his energy and outlook, have improved.
"I have people to live for, places to go," he said.
He also has a goal to reach age 100 so he can keep making memories with his wife of 62 years, Joyce, his two grown children, Terri and Keith, five grandchildren and 11 great-grandchildren.
---
The Baptist Heart Specialists team is dedicated to helping people with heart disease live their best lives. Request an appointment here, or call 904.720.0799 to schedule an appointment with a doctor near you.