Daily aspirin recommendations change
Baptist cardiologist says it's not for everyone, but it can still benefit those with heart disease.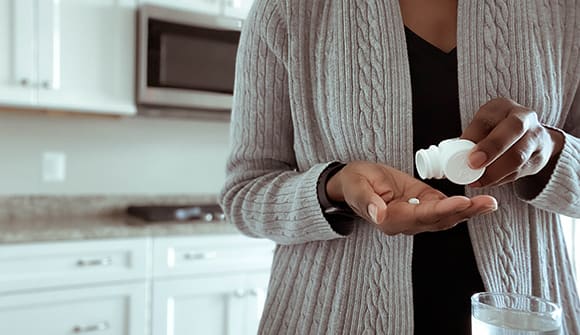 New research has shown that taking a daily aspirin – long a standard practice – won't necessarily keep a heart attack away for generally healthy adults who have low to moderate risk for a heart attack or stroke.
And in older adults with no cardiovascular risk factors, aspirin could actually cause more harm than good.
"We're shying away from giving everyone, including senior adults, a daily low-dose aspirin, said Carlos R. Zamora, MD, a cardiologist with Baptist Heart Specialists. "We are now taking a more individualized approach in deciding who really needs it."
Despite being a common practice for decades, prescribing a daily dose of so-called "baby aspirin" is no longer recommended by the American Heart Association or the American College of Cardiology. The two organizations recently released new low-dose aspirin guidelines after clinical trials showed the benefits don't always outweigh the risks, which include an increase in internal bleeding, particularly in the gastrointestinal tract.
But Dr. Zamora and the American Heart Association emphasize that the new recommendations are not for people who already have had a stroke or heart attack, or have undergone bypass surgery or other stent procedures. "These patients with established heart disease can still have a positive benefit," said Dr. Zamora.
New guidelines and expert recommendations
A daily low-dose 75 to 100 mg aspirin is not recommended for adults older than 70 for the primary prevention of coronary artery disease, heart attack or stroke if they have no known cardiovascular risk. Aspirin is potentially harmful given the higher risk of bleeding in this age group.
Adults of any age who are at increased risk of bleeding should not be given a low-dose aspirin for the primary prevention of coronary artery disease.
People who have had a stroke, heart attack, cardiovascular disease or peripheral vascular disease (a blood circulation disorder) should continue taking a low-dose aspirin as recommended by their health care provider. Aspirin is known to have antithrombotic effects in reducing the formation of blood clots or blockages in blood vessels.
If you have been taking a daily aspirin and you do not have heart disease, consult with your primary care doctor about whether you should stop.
The new guidelines come after an extensive review. Several significant studies published last year, and a major analysis released this year, showed that the benefit of taking a daily low-dose aspirin was offset by the danger of internal bleeding and other side effects for people considered to be at low or moderate risk for heart disease.
Those who are not at high risk can protect themselves from a stroke or heart attack, experts say, through healthy eating habits, exercise and avoiding tobacco.
"Good lifestyle habits provide much better benefits in preventing cardiovascular disease with no side effects and can be incorporated into your day-to-day life," Dr. Zamora said.
Engaging in regular brisk physical activity and adhering to a healthy diet high in fruits, vegetables and whole grains is key. Fish, legumes and poultry are the preferred sources of protein. Minimizing the consumption of trans fats, added sugars (including sugar-sweetened beverages), red meats, sodium and saturated fats is also essential.
If you are concerned about your heart health, visit baptistjax.com/heart to find a cardiologist near you.