Fainting spell or symptom?
What seemed like a one-time episode was actually a heart condition.
Wesley Roberts Published: May 18, 2020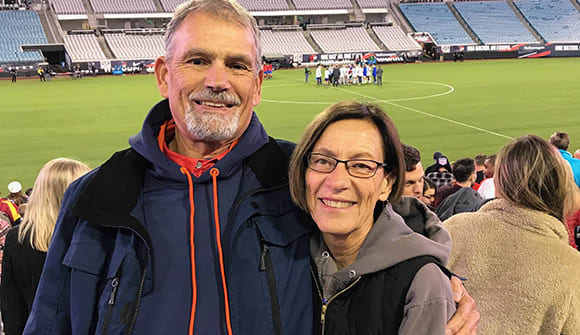 Lynn Chapman has a big heart. She loves her husband, two daughters and six grandchildren. She loves living near the beach on St. Simons Island, Georgia. She loves working with babies and children in her church child care program and caring for students as a former elementary school teacher and licensed counselor. And she sure loves her University of Florida Gators.
From football and basketball to softball and soccer, she'll watch any game, anytime. In fact, they tend to get her heart racing a bit. But in April 2007, her heartbeat went awry for the wrong reasons.
"My husband, Thom, heard a loud thump and found me on the bathroom floor," Chapman said. "I was unconscious for several minutes. He dialed 911 and, eventually, I came back on my own and felt fine. I just got up and started to get dressed for work."
When EMTs arrived at their home, they checked her vitals and decided anxiety was the cause for her fainting spell. Chapman said this is common in female patients with heart conditions since women's symptoms are so different from men's.
"I said, 'You're right, I am anxious. The Gators play basketball tonight for the national championship!"
Thom Chapman called their daughter, a Jacksonville resident who insisted her parents meet her at Baptist Medical Center Jacksonville's emergency room to be examined. Chapman assumed they'd send her home right away, but when Baptist's staff swept her out of triage and into a room to be monitored, she realized something might really be wrong. She watched the basketball game in her room, cheering on the players as her family watched her heart rate rise when the score got close.
The final test
Chapman stayed in the hospital while physicians thoroughly tested for and ruled out multiple conditions. When she passed out on the table during a test, Girish Shroff, MD, a board-certified interventional cardiologist at Baptist Heart Specialists, diagnosed her with sick sinus syndrome with syncope, or fainting.
"Your heart's rhythm is controlled by a specialized area of the heart called the sinus node," said Dr. Shroff. "In patients with sick sinus syndrome, the sinus node malfunctions and causes the heart to beat too quickly, too slowly or irregularly. It can even cause the heart to stop in some cases."
Sick sinus syndrome is sometimes referred to as adult sudden death syndrome and occurs when there's a "glitch" in the electrical signals from the brain telling the heart to beat. A pacemaker can send a slight electrical current to the heart if it stops beating, which made this treatment Dr. Shroff's first priority for his patient.
Dr. Shroff scheduled Chapman's surgery for the following morning and then introduced her to Venkata Sagi, MD, a board-certified cardiac electrophysiologist with Baptist Heart Specialists, who placed her pacemaker.
"When we place a pacemaker for a patient with this condition, it's important we do so quickly to ensure the best outcome," said Dr. Sagi. "Due to Ms. Chapman's small body frame, we had to take a very delicate approach in using tiny cardiac leads, or wires that connect a pacemaker to the heart. The great news is that once the device is in place, it's expected to last a lifetime."
Chapman remembered: "During the night, I began to have sensations that made me believe it was about to happen again. Was I going to die this time? Would I come back again on my own? Was the third time the charm? My daughter and the amazing nurses held my hands, prayed aloud with me and talked with me until I felt better. It gives me chills and tears thinking about it."
Game time
Chapman's surgery went exactly as planned. She said her recovery wasn't bad at all. She was discharged to stay with her daughter and family and was medically cleared to go to the Gators' spring football game. Her brother, sister and father visited the following week, and she and her dad could swap pacemaker and surgery stories, as he had received one for a different condition before.
In 2017, she and her family established the Lynn and Thom Chapman Cardiology Endowment, which provides financial support for patients in need of a pacemaker.
Today, Chapman's heart is doing great. She enjoys her career as site director for Troy University in Brunswick, Georgia. Her family, the beach, and sports still bring her joy each day. And she visits Dr. Sagi's office every six months for a pacemaker checkup. She said she and her family deal with tough circumstances through humor, and her health journey has been no exception.
"When Dr. Shroff was ordering my first pacemaker, I heard him say, 'And make it the long-life battery.' That indicated to me that I might live a while," she laughed. "I've only had the pacemaker replaced once and, again, I got a long-life battery. It's a good thing as I intend to make it to 120 years old! But seriously, I am so thankful for the physicians and staff at Baptist. The culture is so caring and professional, and everyone is outstanding in terms of skill, knowledge and expertise."
Baptist Health provides the region's most comprehensive cardiovascular care. To learn more about prevention, diagnosis and treatment for heart and vascular conditions, visit baptistjax.com/heart or call 904.720.0799.
Close X