Night watch
Smartwatch alerts tech professor to nighttime heart arrhythmia.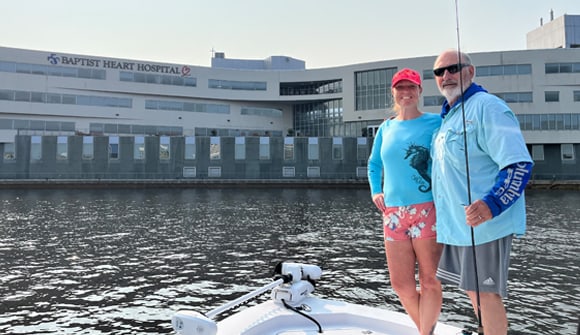 It was curiosity rather than concern that led computer science professor Ron Bendele to wear his new Apple Watch to bed. He was hoping his smartwatch would shed light on his sleep patterns. Little did he know it would reveal he had atrial fibrillation (Afib), a common but serious heart rhythm disorder that can lead to chronic fatigue, congestive heart failure and stroke.
'I hadn't noticed any health issues'
The 70-year-old, who retired from the U.S. Army after 20 years of service, has always lived an active lifestyle: running, hunting and fishing are just a few of his hobbies.
"I hadn't noticed any health issues; it was my Apple Watch that detected Afib while I was sleeping," Bendele said.
His daughter Sabrina, who is a certified surgical technologist at Baptist Heart Hospital, pushed him to see Aaditya Vora, MD, a clinical cardiac electrophysiologist who specializes in conditions involving the heart's rhythm.
Several of Dr. Vora's patients have detected arrhythmias on their smartwatches or by using apps. And many, like Bendele, were unaware they had Afib.
"These devices have helped us tremendously because we've been able to catch arrhythmias much earlier," said Dr. Vora. "These patients may have saved themselves from having a stroke by seeking care and getting on the right medications."
Recording his racing heart
Once Bendele became aware of his Afib via the heart rate function on his Apple Watch, he also recorded the episodes on his blood pressure machine and by using the electrocardiogram (ECG) function on his smartwatch, which measures the electronic pulses that make your heart beat. These events, once sporadic, began to occur more frequently.
"Typically, it would start after I had gone to the bathroom at night and was trying to fall back asleep," he said, adding that sleep was often hard to come by as his heart raced.
The episodes could last anywhere from 30 minutes to five hours.
"They were causing fatigue, and the medication we tried wasn't working, so we decided to go forward with the ablation for the Afib," Dr. Vora said. This minimally invasive outpatient procedure involved inserting a catheter into Bendele's heart and freezing the tissue that causes the heart to beat irregularly.
During the procedure, Dr. Vora discovered Bendele also had atrial flutter, where an abnormal electrical circuit causes the heart's upper chambers to beat faster than the lower chambers, as well as supraventricular tachycardia (SVT), when the heart beats faster than normal.
"We treated all three things so he wouldn't have to come back for a second round of procedures," Dr. Vora said.
Bendele had the outpatient procedure at the Heart Rhythm Center located in Baptist Heart Hospital at Baptist Medical Center Jacksonville. The one-stop destination for electrophysiology surgical and non-surgical treatments opened in March 2023.
"At 11 am, a doctor was fixing my broken heart, and at 7 pm, I was sitting at my dining room table having dinner with my wife," Bendele said. "Isn't that unbelievable?"
Putting the patient at ease
Bendele said he was "in awe" of the entire team, from the registrar who met him and his wife, Suzette, at the center's entrance to his nurse, Kristin, who was with him throughout his time at the Heart Rhythm Center. "I've never experienced anything like this in my life – so quick, so clean, so efficient, and so pleasant from the start."
At the center, patients typically have the same room and nurse before and after their procedure and families can visit just 30 minutes after completion. These details are designed to put the patient at ease.
"For doctors, these procedures are routine," said Dr. Vora. "But it's normal for patients to come in stressed and anxious. It's important to have a place where we can alleviate anxiety going into the procedure. This part is very important from the patient's mental standpoint."
A few weeks after his procedure, Bendele was told he could resume his normal activities.
So, what is his advice to others who may be thinking of getting a smartwatch? "Get one and wear it all the time. While I don't know that it saved my life, it made a big difference in it."
---
The Heart Rhythm Center at Baptist Medical Center Jacksonville is the region's only dedicated center for the care and treatment of patients with heart rhythm disorders. If you think you may have a heart rhythm disorder, like Afib, call 904.202.AFIB (2342) or visit baptistjax.com/Afib.