To screen or not to screen
The much-debated PSA test for prostate cancer can be beneficial for some men.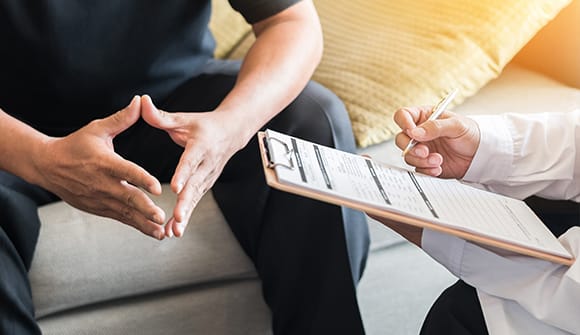 If you're an American man, there's a one in 10 chance you could develop prostate cancer at some point during your life. In fact, it's the most common cancer in men after skin cancer.
About 175,000 new cases will be diagnosed in 2019, the third-highest number of new cancer cases after breast and lung cancers, according to the National Cancer Institute.
Unfortunately, many men never experience symptoms and without being screened, they may not know they have the disease.
But whether or not to get screened and how beneficial it actually is has been highly debated in the health community.
In 2012, the U.S. Preventative Services Task Force, an independent, volunteer panel of national experts that makes recommendations about clinical preventive services, recommended against screening altogether. The task force stated that the benefit of screening doesn't outweigh the risks of including false-positive results, which could lead to additional, unnecessary testing and prostate biopsy.
Task Force reverses decision
After various recent studies showed that PSA screening could be beneficial for certain age groups, ethnicities and people with a family history, the U.S. Preventative Services Task Force reversed its recommendation.
"Screening offers a small potential benefit of reducing the chance of death from prostate cancer in some men," the recommendations state.
The reversal has caused some confusion among physicians and patients.
Jonathan Melquist, MD, a urologic oncologist at Baptist MD Anderson Cancer Center, who recently sent out a summary of the decision to Baptist Health physicians, said he believes prostate screening is as important as colon and breast cancer screenings.
"Data reasonably supports screening for men 55 to 69 years old and even earlier if you have high-risk factors," Dr. Melquist said. "Knowledge is power. You'd rather know you have a low-risk cancer than not knowing you have a low-risk or high-risk cancer."
Prostate cancer is tested by measuring the amount of prostate-specific antigen (PSA), an enzyme found in the blood. An elevated PSA level could be caused by prostate cancer or another inflammatory process of the prostate gland.
What the new guidelines reveal
The new guidelines established at the end of last year include;
Encouraging men ages 55 to 69 to discuss potential benefits of screening with their physicians, as well as any negatives including false-positive results that could require additional testing and possible biopsy; overdiagnosis and overtreatment; and treatment complications, such as urinary incontinence and erectile dysfunction. The decision to screen for this age group should be an individual one based on the person's values and preferences, the guidelines state.
Recommending against screening for men 70 years and older based on life-expectancy data studied. PSA-based screening can lead to the diagnosis of prostate cancer in some men, especially over age 70, whose cancer would never have become symptomatic during their lifetime, according to the task force.
Long-term studies found PSA-based screening for prostate cancer prevents 1.28 men from dying for every 1,000 men screened, more than previously thought.
Some more at risk than others
The American Urological Association has similar guidelines. But Dr. Melquist said the association offers additional recommendations based on a person's risk factors.
Screening can be pursued for ages 40 to 55 for:
Those with a family history of aggressive or deadly cancer tumors (prostate, breast, ovarian, and pancreatic cancer) over multiple generations and in first-degree relatives as well as first-degree relatives who had prostate cancer at a young age.
African Americans who have a greater chance of developing prostate cancer because they are more likely to develop prostate cancer than men who are white (203.5 versus 121.9 cases per 100,000 men). Overall outcomes though for prostate cancer are positive since the disease advances slowly. Some studies show the 10-year survival rate for screen-detected, localized prostate cancer that has not spread to other parts of the body is 99 percent
Typically, there are no signs for prostate cancer, Dr. Melquist said, except when it has become aggressive or has spread throughout the body signifying the importance of screening.
Various treatment options for prostate cancer include removal of the prostate gland, radiation therapy or ongoing monitoring for those with low-risk prostate cancer. Cure rates are generally very high but are dependent on the pathologic type of the cancer.
"Very few people die of prostate cancer. Even with the rarer high-grade prostate cancers, there is still a moderate chance for a cure," Dr. Melquist said.
Baptist MD Anderson Cancer Center offers a wide variety of therapies and treatment options for prostate, including radiation therapy and robot-assisted radical prostatectomy. For more information or to schedule an appointment with a cancer specialist, call 1.844.MDA.BAPTIST.