Former college decathlete finds his medical calling
Now works with same physicians who kept him on the field.
Johnny Woodhouse Published: December 12, 2018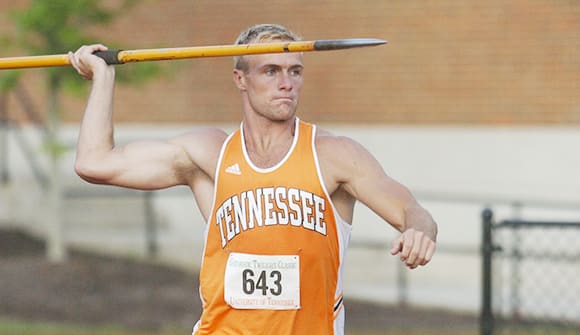 Brett Frykberg, MD, an orthopedic surgeon with Jacksonville Orthopaedic Institute (JOI), went through his share of injuries growing up as a three-sport athlete in high school.
The fact that he was able to compete in prep sports on a year-round basis and ultimately earn a track and field scholarship to the University of Tennessee (UT) is due in large part to the expert care he received from athletic trainers and sports medicine physicians in his hometown of Jacksonville.
"Today, I work alongside some of the same folks who kept me on the field as a youth, including JOI orthopedic surgeons William Pujadas, MD, and Carlos Tandron, MD," said Dr. Frykberg. "Joining the same orthopaedic group that took care of me when I was younger has brought me full circle."
Finding his calling
A track and field star in high school, Dr. Frykberg competed in the high jump, javelin and decathlon in college from 2002-2004. But he was forced to give up the decathlon, a two-day test of versatility and stamina, after suffering a back injury his freshman year.
"I slipped a disk throwing the hammer and it took me six months to recover," recalled Dr. Frykberg, who suffered a hamstring injury the following year, but set team-high marks in the high jump and personal-best throws in the javelin his junior year.
Dr. Frykberg didn't intend to follow his late father, a legendary trauma surgeon, into the medical field.
But an eight-week summer stint as a volunteer in the trauma center at UT Medical Center changed his career outlook.
"I fell in love with the hospital and the selfless work the staff was doing there. It made me appreciate what my dad was doing in Jacksonville on a daily basis," said Dr. Frykberg. "That summer, I decided to switch my major from biomedical engineering to pre-med because I wanted to work in patient care."
Two years later, Dr. Frykberg gave up his final year of athletic eligibility to enter the Medical College of Virginia, the same school his late father attended.
"Brett was one of my favorite athletes because of his big heart and his huge desire to accomplish something big, like being accepted into medical school," said former Tennessee track coach Bill Webb.
Playing a sport in college proved advantageous for Dr. Frykberg when he was interviewing to get into medical school.
"Turns out, time management is one of the biggest things they look for in prospective medical students," he said. "As a decathlete, I had competed in 10 different events. So, I knew how to multi-task."
Bone-preserving procedure
A former chief resident at the University Florida College of Medicine – Jacksonville, Dr. Frykberg realized he had a strong interest in the field of joint replacement and complex revision surgery, or surgery to replace or compensate for a failed implant. He became immensely interested in hip disease in the young, active adult during a fellowship in New York City.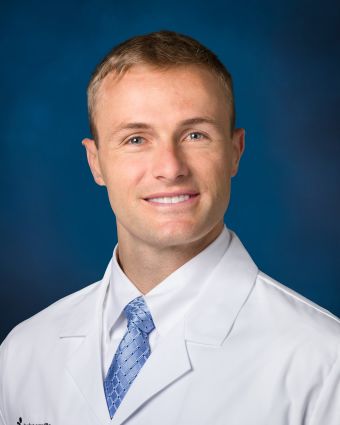 "In the past, younger people with hip problems had to stop whatever activity they enjoyed. Their only option was total hip replacement," he said. "While I was training in New York, I started performing hip resurfacing procedures, which involves removing arthritis in the affected hip while leaving healthy tissue in place."
Dr. Frykberg said many of his patients who have undergone hip resurfacing procedures are back competing in recreational sports like tennis, golf, cycling and running, within three months. He uses the latest technology, including robotic-assisted and computer-navigated joint replacement surgery.
"It's a privilege to be able to give back the active lifestyle my patients may have lost with the presence of hip and knee arthritis. Many athletes continue to play with chronic hip pain. Hip resurfacing procedures are less invasive and can help keep them in the sport they love. It's a bone-preserving procedure and another option in JOI's repertoire."
Family of caregivers
Dr. Frykberg comes from a family of caregivers. His late father, Eric R. Frykberg, MD, was chief of General Surgery at a local hospital. A plaque honoring his memory and his 30 years of service hangs in the trauma center there.
As a general surgeon in the Navy, Dr. Frykberg's father directed the surgical care of the wounded following the 1983 suicide truck bombing of the U.S. Marine barracks in Beirut, Lebanon.
"Most people remember the bombing, but very few know that many casualties were avoided and lives saved because Lt. Cmdr. Eric Frykberg of the USS Iwo Jima took it upon himself to establish a system of casualty triage at shore-based medical facilities in Beirut before that tragic day," recalled Joe Tepas, MD, chief of the division of Pediatric Surgery at UF Health Jacksonville. "His foresight saved many lives."
Dr. Brett Frykberg's older sister, Erica Glas, DO, is a Baptist Health-affiliated OB/GYN. His younger sister, Jessica Vogel, is a recreational therapist in Jacksonville.
"I didn't always want to be a physician like my father. I wanted to do something different," said Dr. Frykberg "But I eventually found my calling."
Specially trained physicians at JOI provide comprehensive care for muscles, bones and joints. To find a location near you, call 904.204.3120.
Close X