One step at a time
Exercise helps with recovery and prevention of falls.
Vikki Mioduszewski Published: July 05, 2019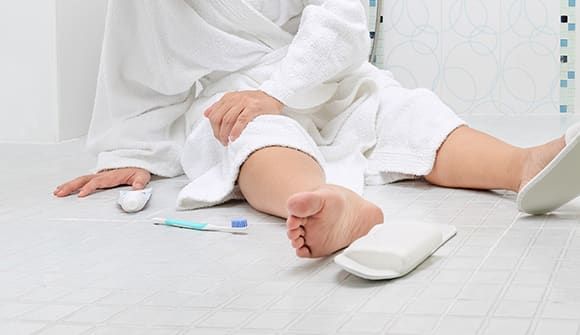 One in four adults over age 65 experience a fall each year, resulting in about 3 million visits to the emergency room. Former President Jimmy Carter, who broke his hip in May following a fall, is just one example. Many of the falls result in a hospitalization, primarily due to head injuries or hip fractures, according to the Centers for Disease Control and Prevention.
Even more concerning, some studies point to 30 percent of people dying within a year of a hip fracture if they're over age 65.
But there are ways to decrease those odds by trying to prevent the falls in the first place; ensuring your body is strong enough to handle a fall and seeking medical assistance as soon as possible.
"Getting patients in more quickly, within 48 hours after injury, has been shown to increase the lifespan," said Brett Frykberg, MD, orthopedic surgeon with Baptist Health and Jacksonville Orthopaedic Institute, who has seen survival rates improve in recent years.
New surgical techniques that decrease operational time and blood loss, combined with starting physical therapy as soon as possible after surgery, has also enhanced recovery.
"Advancements have not only helped the patient during surgery but have helped reduce complications after surgery as the patient recovers," Dr. Frykberg said.
Weaker bones increase fall risk
Older adults and people with renal disease and osteoporosis, a bone disease which causes a loss in the amount of bone tissue in your bones, have a higher risk of breaking a hip because of weaker bones. Falls can also be contributed to vision or cognitive impairment.
"The older we are, the more likely we are to have osteoporosis and weak bones," Dr. Frykberg said. "Older persons who have surgery are also at higher risk of pneumonia, for example, because of stress on the heart and lungs, which complicates recovery."
But steps can be taken to improve chances of recovery and improve falling in the first place, including:
Stay active and stay healthy
Don't sit for long periods of time
Maintain a normal blood pressure
Take calcium and Vitamin D on a daily basis if you are over the age of 40 to help prevent osteoporosis
"Vitamin supplements are extremely important," Dr. Frykberg said. "Low-impact exercises like walking or riding a stationary bike increase the heart rate and are both good for heart health as well as bone and joint strength. Staying active, in general, has been shown to prolong life."
More women than men impacted
Dr. Frykberg said hip fractures happen more commonly in women because of the higher incidence of osteoporosis.
Statistics show one in two women and up to one in four men over the age of 50 will break a bone due to osteoporosis, according to the National Osteoporosis Foundation. By 2020, one in two Americans over 50 are expected to have or be at risk of developing osteoporosis of the hip.
The good news is there are many new treatment options when dealing with a fractured hip.
Though not always used with hip fractures, robotic surgery can provide more precise placement of implants. Newer techniques such as approaches that spare more muscle combined with rehab soon after surgery have patients walking more quickly.
Depending on where the fracture is, surgery may or may not be needed. If surgery is needed, physical therapy generally starts the same day or the next day if the surgery was at night. Some fractures can be fixed with screws or partial hip replacement.
If you are experiencing hip pain, there are various procedures and treatments available by Baptist Health and Jacksonville Orthopaedic Institute depending on the severity of your discomfort. Physicians are experienced in diagnosing and treating hip pain whether you need a course of physical therapy or surgery.
Close X