Prone to bones
Avulsion fractures can happen to anyone, not just pro athletes.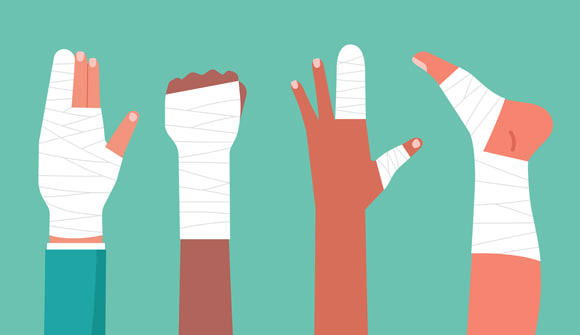 Green Bay Packers quarterback Aaron Rodgers has been playing with an avulsion fracture on his throwing hand for most of the 2022 NFL season.
A common sports injury in both adults and children, an avulsion fracture occurs when a bone fragment separates from the rest of the bone. It is typically found around the hip, pelvis, ankle, foot, finger, elbow, or knee.
"As a hand surgeon, the most frequent avulsion fracture I see is a jammed finger," said David Graham, MD, an orthopedic surgeon with Baptist Health and Jacksonville Orthopaedic Institute.
"It can happen to any bone that's connected to a tendon or held in place by a ligament. I would venture to say that a good portion of the worst strains and sprains that people might suffer are really avulsion fractures."
Acute vs. chronic
When an avulsion fracture occurs, the bone moves one way and the tendon or ligament moves in the opposite direction, causing a piece or chunk of bone to break off with it.
"That's because the tendon or the ligament is stronger than the bone," Dr. Graham explained.
Avulsion fractures are common in two types of thumb injuries: skier's thumb and gamekeeper's thumb. The former is typical to snow skiers and ice hockey players due to the force of a ski pole or hockey stick on an outstretched hand during a fall. It is usually due to an acute (sudden) injury.
The latter is a repetitive force injury to the ulnar collateral ligament (UCL) of the thumb due to a fall or movement pattern of the thumb away from the palm and index finger. The chronic condition was once associated with Scottish gamekeepers.
Rodgers' injury was a result of an opposing player's elbow striking the thumb of his throwing hand.
"My guess is Rodgers has a type of skier's thumb, which is an acute injury," said Dr. Graham.
"It often causes pain, swelling and bruising over the UCL area and can result in a partial tear, complete tear or avulsion fracture. We don't treat avulsion injuries with surgery if there is no instability of the joint. But some form of immobilization or short-term casting or splinting may be needed."
Surgery rarely required
Avulsion fractures occur frequently in athletes between the ages of 13 and 17 due to their developing bone structure. They are also common in dancers of any age due to landing a jump wrong or by the inverting and twisting of an ankle or foot.
The only way to tell if someone has an avulsion fracture is by taking an X-ray of the affected area. A thorough evaluation should be done to ensure a rupture of the ligament or a fracture to the bone has not occurred.
"It's important to rule that out right away," Dr, Graham said. "If there's not a fracture, we are going to treat it as a bad sprain and advance therapy options a lot quicker. I tell my patients to allow any fracture adequate time to heal before returning to full activities."
If you have a hand or finger injury, Baptist Health is affiliated with more than 30 specialty-trained physicians of Jacksonville Orthopaedic Institute. Schedule an appointment online at the location nearest you.