Before the 'baby blues'
Shining the spotlight on prenatal anxiety and depression.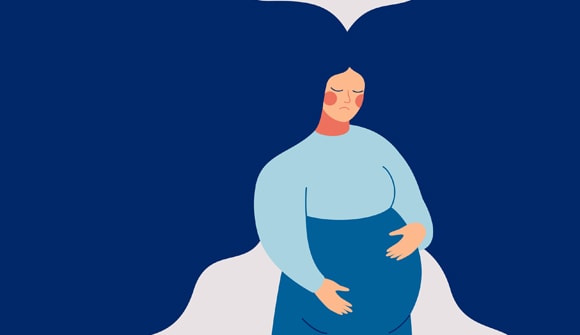 While pregnancy is widely considered to be a time of joy and hopeful anticipation, it can also be a time of stress, anxiety and even depression for many expecting women. In fact, it's one of the most common complications of childbirth.
According to Jill Garrett, PsyD, a psychologist with Baptist Behavioral Health who specializes in maternal mental health, 10% of women experience depression and 6% of women develop anxiety during pregnancy.
Seeking mental health support while pregnant is just as important as medical care during this time period. But since the symptoms of anxiety or depression mimic common pregnancy symptoms, how do you know when to see a professional?
When sad turns serious
Symptoms of anxiety and depression in the prenatal period might include:
Down, depressed or irritable mood
Loss of pleasure in previously enjoyed activities
Excessive worry or periods when your mind is racing
Changes in sleep, appetite and energy levels
"A good rule of thumb is that if mood changes persist beyond a couple of weeks or interfere with your day-to-day life, you could benefit from professional support," said Dr. Garrett.
She cautioned this is not an exhaustive list of symptoms, and if you have concerns, talking to a health care provider who is trained in perinatal mood and anxiety disorders (PMADs) is the next best step.
Pre- and post-pregnancy prevalence
While people can experience mental health difficulties like depression and anxiety at any point, the perinatal period (pregnancy through around one year after childbirth) is a time when individuals might be at higher risk. PMADs occur in 1 in 5 to 1 in 7 moms. In women of color, the prevalence is even higher at one-third. PMADs even occur in about 10% of new dads.
"I tend to describe how biological, psychological and social factors all converge and create a bit of a perfect storm to make us more prone to perinatal mood and anxiety disorders," said Dr. Garrett.
Biological factors like hormonal fluctuations and lack of sleep, psychological vulnerabilities such as a history of depression or anxiety, and social vulnerabilities such as work, finance or relationship concerns combine to make women more susceptible to PMADs during pregnancy.
Why it's important to seek help
PMADs are not uncommon. Accessing support in the prenatal period can reduce the risk of challenges associated with untreated anxiety and depression, potentially including preterm delivery, low birth weight, low Apgar scores (a scoring system used to test a baby's general condition at birth) and impaired bonding.
What you can do
Recognizing you are experiencing PMAD symptoms and seeking professional help is the first step in preventing issues down the road. A behavioral health specialist trained maternal mental health can help you talk through your emotions and come up with a plan to adjust and thrive in your new normal. He or she can also assess if medication or further treatment options are needed.
There are also lifestyle changes you can make, and according to Dr. Garrett, "it all starts with self-care and being your own NURSE."
NURSE is a helpful acronym that outlines steps you can take to be your own health advocate during pregnancy:
Nutrition/needs: fueling your body with balanced meals, drinking plenty of water and making sure to take any prescribed medications
Understanding and awareness of PMADs: educating yourself on the signs and symptoms
Rest/relaxation: taking time to recharge in healthy ways that work for you
Support: accessing resources by connecting with other moms via groups, reading self-care books and more
Exercise: enjoying both physical and mental activities like taking a walk or downloading an app to follow relaxation or meditation techniques
"Just like you plan for baby's arrival by organizing a registry and decorating the nursery, I encourage women to also add building a healthy self-care routine for during and after pregnancy to their to-do list," said Dr. Garrett.
---
Pregnancy is hard. If you're struggling with anxiety or depression and need help from a mental health professional, call 904.376.3800 to make an appointment with Baptist Behavioral Health.