Seeing red from pink or blue?
Tips for dealing with baby 'gender disappointment.'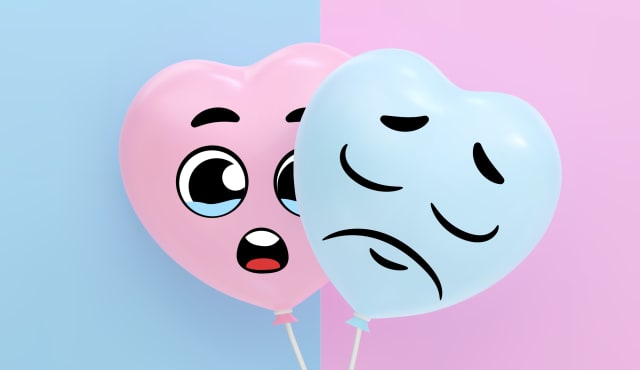 Our guest columnist is Julia "Jill" Garrett, PsyD, licensed psychologist and founding psychologist and program director of The Motherhood Space, Baptist Health's maternal mental health program.
The pregnancy and postpartum periods come with a whole range of emotions. There are a number of different events and milestones from the first trimester through the year after delivery that can be triggers for bigger feelings too. One of those is the reveal of the baby's sex, often called the "gender reveal," be it during pregnancy or upon meeting your baby after birth.
Great expectations
It's not uncommon for parents-to-be to imagine what their lives will be like once their little one arrives. For many, those visions revolve around baby's gender and what that looks like in their future parenting and family lives. For some moms (and dads!), the big feelings around finding out baby's sex, particularly so-called "gender disappointment," can be tough. People might feel not only upset, but also angry, jealous, disconnected and even ashamed of having these hard emotions.
For example, an expecting mom who spends her days dreaming of donning matching outfits with her baby girl goes to her 20-week ultrasound and finds out she's having a boy. She can't help feeling disappointed but feels guilty about it because the baby boy she's growing is perfectly healthy. Many women aren't so lucky.
How to cope with gender disappointment
One of my top tips for any situation is to give yourself permission to feel. You can be endlessly grateful for your baby's health and grieve the life you imagined. All feelings are fair! Plus, when we tell ourselves we shouldn't be feeling a certain way, it only makes us feel worse. Sadness with shame is an extra-tough combination.
Start with validating your feelings and giving yourself a reminder that of course it makes sense to feel disappointed when you had expectations that didn't meet your reality.
Another strategy is to "peel back the onion" a bit to see if you can make sense of why you're feeling disappointed. When we're able to understand the underlying reason, we can often check in with our own thinking and beliefs to see if there's a way to reframe things!
For example, "I had pictured going on girls' trips with my daughter and that will never happen," could shift to, "My feelings of disappointment are fair and valid, and I'm going to focus my efforts on how to connect with my baby no matter their gender." Sometimes this comes with challenging our own gender stereotypes and focusing on bonding methods regardless of whether you're having a boy or girl.
Swaddle yourself in support
One thing is certain: Things change when you have a baby, and that's tough on anyone. It's important to look for people you trust who can listen to your feelings and struggles and provide support! Prioritize self-care and give yourself healthy mantras to connect to your baby no matter the gender. If you're having a hard time managing your feelings on your own, don't hesitate to reach out for professional support.
---
If you're pregnant or recently gave birth and are struggling with your mental health, Baptist Health has resources to help. To learn more about The Motherhood Space Day Program or The Motherhood Space Video Series, visit baptistjax.com/motherhoodspace, to watch no-cost videos on a variety of perinatal mental health topics.